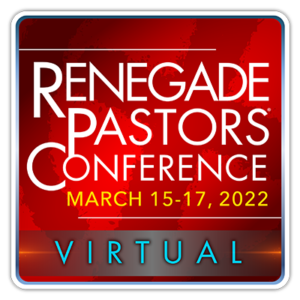 Time's running out to save your spot for next week's ultimate pastor leadership event: the 2022 Renegade Pastors Conference. You can still save with Advance Registration rates, but only while spots are still available.
Registration will close soon for this 3-day online event — Tuesday, March 15 – Thursday, March 17 — focused on equipping YOU to abandon average! Plus no travel is required for this senior pastors only leadership event.
Will Sell Out Soon: Click here to learn more and register while spots are still available!
NEW THEME TO MEET TODAY'S CHALLENGES 
This is no ordinary pastor conference. This year's theme is FINISHING WELL. We'll cover multiple areas to finishing well, including physical, emotional, mental and spiritual health. And when you sign up today, you can still get TWO FREE COPIES of my brand new book, The Renegade Pastor's Guide to Finishing Well ($39.95 value). This is the fifth book in the Renegade Pastor series.
And this year's focus could not have come at a better time.
A recent Barna pastor poll shows that US pastors are currently in crisis and at risk of burnout. Nearly two in five have considered quitting this past year and only one in three pastors is considered "healthy" in terms of well-being.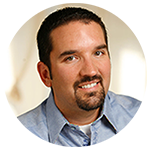 So if you've felt this way recently, you're not alone! The good news is you're in exactly the right place to get encouragement and new strategies to reignite your passion and effectiveness for ministry.
With this focus, you'll find renewal and inspiration at this online event through proven strategies and new applications for ministry from those who are in the trenches with you — and are committed to helping you fulfill your calling!
Almost Full: Click here to learn more and secure your virtual pass now at Advance Registration rates!
WILL SELL OUT — SAVE YOUR SPOT TODAY! 
Our 2022 conference is open only to Senior Pastors or Senior Pastors + spouses. Your Advance Registration rates are only $149 for you (regularly $599) and $19 for your spouse to attend (regularly $49) when you sign up now.
Dates: NEXT WEEK, Tuesday, March 15 – Thursday, March 17, 2022
Times: Starts at 9:45am ET each day
No Travel Costs: You can attend via Zoom from the comfort of your home or office!
You're invited to join me and special guests for a memorable and motivational LIVE virtual event full of encouragement, fellowship and eye-opening training!
ALL-STAR LINE-UP OF SPEAKERS 
Joining me on our virtual stage will be:
DR. KENNETH BOA — President of Reflections Ministries
DR. ELMER TOWNS — Master Teacher of Church Growth
DR. STEVE REYNOLDS — Pastor and Co-Author
DWIGHT FLETCHER — Senior Pastor, Transformed Life Church, Kingston, Jamaica
KERRICK THOMAS — Founder of Renegade Executive Pastors Network
JASON HATLEY — Founder of Renegade Worship Pastors Network
TRACY LEWIS — Campus Pastor and Christian Counselor
BOYD PELLEY – Churchteams Co-founder
SIGN-UP BONUS ENDING SOON — LIMITED COPIES AVAILABLE:
You will receive TWO FREE COPIES of my brand new book, The Renegade Pastor's Guide to Finishing Well ($39.95 value). This is the fifth book in the Renegade Pastor series and its focus is the theme of this year's conference.
And more bonuses! You're in for quite a treat at our brand new virtual event. See full details and sign up right here before this event sells out:
This 3-day event has everything you need to abandon average in 2022 — and beyond! Where else can you:
– Discover practical, nuts-and-bolts ideas to grow your ministry in our new reality — things you can implement immediately!
– Connect with high-caliber speakers — both practitioners and scholars!
– Join a community of fellow pastors from around the country and internationally
– Discover new services and solutions to support your ministry
– Shop for the latest resources and tools to help you grow personally and professionally
Ministry is challenging — especially in the wake of the pandemic — but you don't need to do it alone. Get the insights and inspiration you need TODAY to face these obstacles head-on and perform at the highest level as a church leader.
Don't wait — registration will close once the last ticket is sold!
Your partner in ministry,
Nelson
P.S. Sign up now to be a part of the ultimate leadership event for Senior Pastors during a critical time in our ministries — one that will equip, encourage and energize you to reach your maximum growth potential!
Almost Sold Out! Don't miss this Advance Registration Rate while seats are still available — Only $149 (regularly $599) for you and $19 (regularly $49) for your spouse!
Questions or prefer to register by phone? Call us at 561.921.8488, ext. 2.
Or Click Here to Secure Your Spot Now — Before They're Gone!