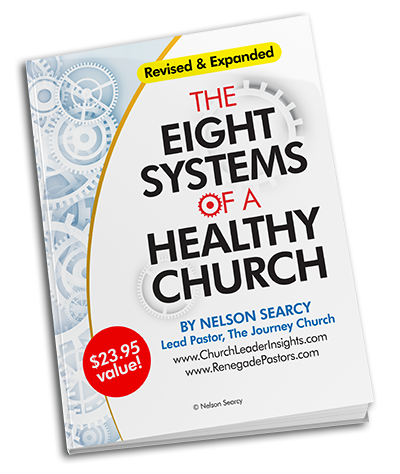 How Healthy is Your Church?
FREE E-book - 8 Systems to Save You Stress, Time, Energy and Money
Pick up Nelson Searcy's revised and expanded 8 Systems of a Healthy Church E-Book – a $23.95, yours for FREE!
There are no current events...
You're Invited to Join Nelson Searcy's Coaching Network for just $99 per month & IMMEDIATELY Receive $895.45 of FREE Resources!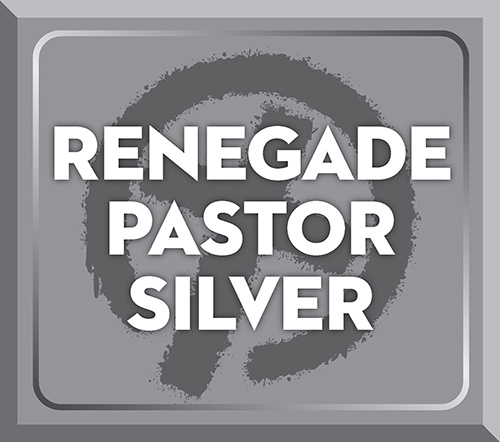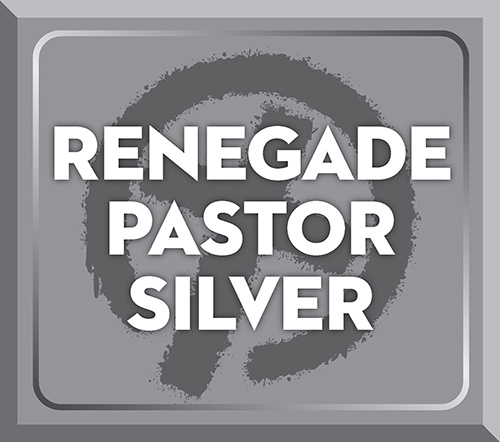 "God has called you to more than mediocrity . . . Average is where the enemy wants you to live, because it's the precursor of ineffectiveness — but average is exactly what God is calling you to abandon."
For Just $99 per month, you can join this exclusive monthly coaching network from pastor, author and coach Nelson Searcy that will equip you to abandon average in your life and ministry!
If you are like the majority of pastors, your years of ministry have decreased your passion and increased your frustration. In the midst of life's chaos and the pressures of leading church week after week, "average" may have become your new standard.
But you are called to so much more!

---
Join Nelson Searcy on a mission to abandon average and reclaim a life of impact and excellence. Are you ready to go Renegade?
Join for just $99 per month & IMMEDIATELY Receive $895.45 of FREE Resources!
---
Join Nelson Searcy's Coaching Network for just $99 per month!
The Renegade Pastors Network: 4 Great Coaching Levels from Nelson Searcy!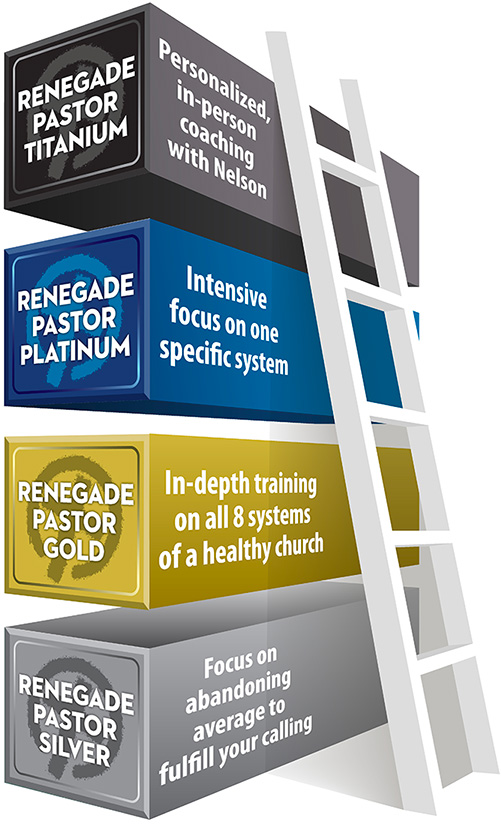 ---
Coaching is, after all, at the heart of what we do for pastors.

The Renegade Pastors Coaching Network ia comprised of 4 levels (Silver, Gold, Platinum, &Titanium). Each level is your path of growing and continually moving up the ladder.

Renegade Pastors Silver: The Foundational Level (Open to all Pastors, Church Planters, & Ministers)

Renegade Pastors Gold: The Growth-Accelerating Level (Open to all Senior Pastors, Church Planters, & Campus Pastors and Future Lead Pastors)

Renegade Pastors Platinum: The In-Depth System-Specific Level (Open to all Pastors, Church Planters, Campus Pastors & Church Leaders - laity and ordained)

Renegade Pastors Titanium: The Highest Level (Limited Size Group: Approximately 35 Senior Pastors)
---
Click Here to Learn More About Nelson Searcy's Coaching Network & See What Level Is Best For You
Other Pastors Share Their Results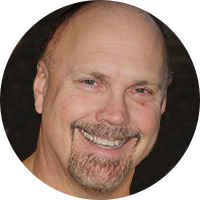 When I arrived we were running less than 40 people and it took us 12 years to break the 100 barrier. Seven years ago, we began implementing the principles in the Assimilation Seminar. Our paradigm completely shifted. We now average 9 first time guests every week and 80% of them return back as a second time guest. We went from 110 people to nearly 350 in four years. This Assimilation Seminar will change your culture!
Roger House
Senior Pastor Allen St. Baptist Church in Clinton, MO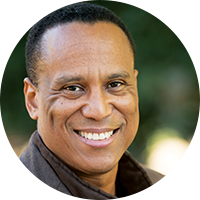 We were big in evangelism but we were not effective in keeping people. It wasn't until the Assimilation Seminar with Nelson Searcy that we had an intentional plan to follow up with people. We're now able to retain the people who come in to our church.
Paul Earle
Senior Pastor, Life Church in Victorville, CA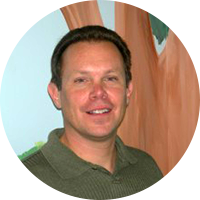 Your seminars and resources are so practical and helpful. I know that implementing the things I've learned from you has made it easier for God to work through our congregation to reach non-churched people from my community.
David Michel
Pastor, Stepping Stones Community Church, State College, PA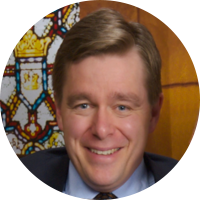 The church systems are very good. But what makes Nelson so good is the bigger picture that he brings to everything. He knows so many people — both by coaching and as mentors — and reads so much that he is able to pass on the best of his learning to those in his network.
Jeff­ Fartro
Pleasant Valley Presbyterian, Parma, OH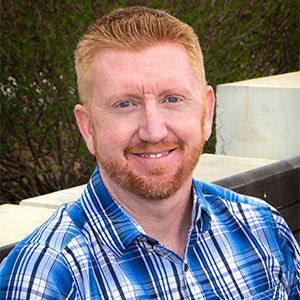 I enjoy the nuts and bolts approach. I am a systems/process thinker and the network helps me think through di­fferent areas of our church and challenges the way I think about our processes and how I lead/pastor.
Andy Rainey
Blue Ash Community Church, Blue Ash, OH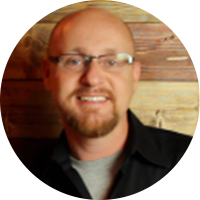 Second only to my relationship with God is my family. In a growing church this can be a challenge. I am thankful for Nelson's coaching to keep my priorities God honoring. I have seen so many pastors struggle in their marriage and their kids end up resenting the church. The principles I have learned have helped me make my marriage better than ever and both my boys love the church. All the while having 6 years of steady growth the church is now 5 times larger than we started. It is possible.
Michael Shreve
Mountain West Church, Stone Mountain, GA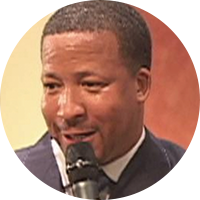 Joining the Senior Pastor Coaching Network will be a personal and ministry- impacting experience. It brings real clarity to what's required to lead a growing church. It will be an investment into yourself and your ministry.
Jesse Giddens
Destiny Christian Center, Apple Valley, CA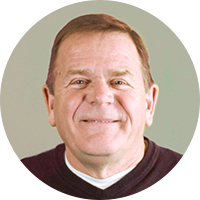 When I first heard about the eight church systems, my first thought was this could help the ministry of my church go to a whole new level. Well, it has! Our giving has increased 10% every year, we've grown from 200 to 330 in morning worship, there are now 150 volunteers and we actually have a system for following up with first-time guests.
Rick Rouse
Lead Pastor, Akron Free Methodist Church, Akron, NY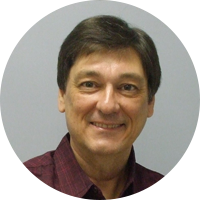 Being a part of this network has helped me to lead our church more effectively, reverse what had been a slow decline, mobilize greater numbers of our people in outreach and service, reach and retain more new people, and significantly raise the level of generosity in our church.
Robert Haynes
New Life Community, Olive Branch, MS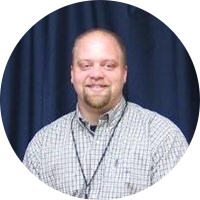 Nelson gives you a plan — then we get to wrestle with it, apply it and he is there to off­er suggestions based on how we are doing. I didn't get the practical side of ministry in Seminary and this filled the gaps for me when I got the 'big' office at church. I knew how to preach — I needed to know how the church ran and what my role was as we look at all the systems; what was missing, working, needing attention.
Timothy Thiessen
Birch Bay Bible Community Church, Blaine, WA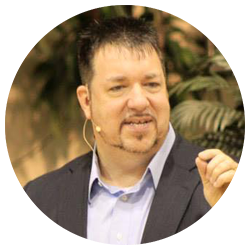 The Renegade Pastors Network is the single greatest investment you can make towards growing your church. Period.
Lon Dean
House of Praise, Castleton, NY
Featured Resources from Nelson Searcy
The New Assimilation Seminar
Download Value: $2,328.90 $199
CD Value: $2,358.90 $229
DVD Value: $3,027.85 $299
Updated & Expanded: Discover the proven process to grow your church by welcoming first-time guests, keeping them coming back and moving them to membership. Seven powerful sessions plus new DVD Team Training Option!
LEARN MORE
The New Evangelism Seminar
Download Value: $1,693.40 $199
CD Value: $1,793.40 $229
DVD Value: $2,233.20 $299
Updated & Expanded: EVERY key strategy and tool — attract more unchurched and mobilize your people to reach more people for Christ. Six powerful sessions, editable documents plus new DVD Team Training Option!
LEARN MORE
Developing a One-Year Personal Growth Plan
Download Retail: $49.95 $29.95
CD Retail: $59.95 $39.95
1-hr seminar: Don't leave personal growth to chance — in this nuts-and-bolts resource, Nelson will guide you through developing a plan.
LEARN MORE
Time Management for Busy Pastors
Download Retail: $299.95 One-Time Special - Only $25
CD Retail: $399.955 One-Time Special - Only $49
3-hr seminar: Make the most of every hour of your week - discover Nelson's 34 proven time-management principles to get the most out of your day!
LEARN MORE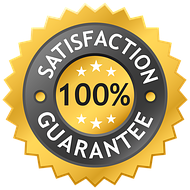 100% NO-HASSLE GUARANTEE: We are so certain that these resources will benefit you and your church that we will give you a 365 day no-hassle guarantee. Take your time to listen and implement the ideas in the resources your purchased and if at any time you are not fully satisfied, then you can receive a prompt and courteous refund.
FREE Featured Webinars from Nelson Searcy
The 8 Systems of a Healthy Church Webinar
Join Nelson Searcy for this FREE, 75-minute webinar to discover all eight of your church's systems and how you can begin to make each of them more effective for greater health and growth.
SIGN UP NOW!
Top 3 Growth Barriers Webinar
Nelson Searcy will help you identify the three most common barriers to your church growth and give you practical steps to break through each on in this FREE, 75-minute webinar.
SIGN UP NOW!
Top 3 Staffing Mistakes Webinar
Nothing keeps pastors awake at night more than church staffing issues! Join Nelson Searcy for this FREE 75-minute webinar to help you identify and avoid each of the three most common staffing mistakes.
SIGN UP NOW!
Top 3 Skills for Executive or Associate Pastors
In this FREE 75-minute webinar, Journey Executive Pastor Kerrick Thomas wants to share with you the 3 most important skills that have made his role successful, fulfilling and enjoyable.
SIGN UP NOW!
Featured Blog Posts by Nelson Searcy
Meet Dr. Nelson Searcy
Nelson Searcy is the Founding and Lead Pastor of The Journey Church, with locations across New York City and in Boca Raton, FL. By God's grace, he identified and developed the Eight Systems of a Healthy Church® that he has used to coach over 3,500 churches in the US and around the world to adapt those eight systems to their unique ministry fields, resulting in great health and growth.
Nelson regularly coaches pastors online and in-person through the Church Leader Insights and Renegade Pastors Network ministries that he founded. He also leads several annual pastor in-person conferences and online training events. In ministry for more than 25 years, Nelson and his church routinely appear on lists such as "The 50 Most Influential Churches" and "The 25 Most Innovative Leaders."
He is the author of over 100 church growth resources and 19+ books, including The Renegade Pastor: Abandoning Average in Your Life and Ministry, The Difference Maker: Using Your Everyday Life for Eternal Impact, and Fusion: Turning First-Time Guests Into Fully-Engaged Members of Your Church. Nelson is the recipient of the prestigious Donald A. McGavran Award for Outstanding Leadership in Great Commission Research.
He is a longtime student of church history, especially mastering the areas of evangelism and church growth. He divides his time between NYC and South Florida. He battled Stage 4 cancer and has been cancer-free since 2018, praise God! He has an amazing wife, Kelley, and a teenage son, Alexander, who continues to grow in so many ways.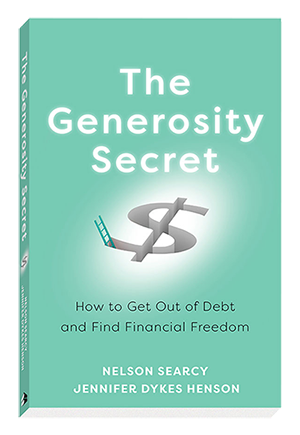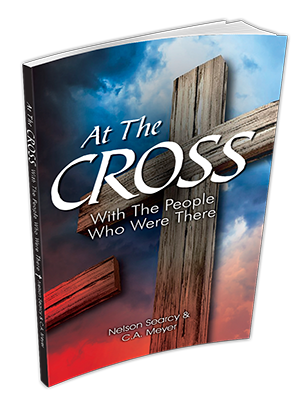 As Seen In