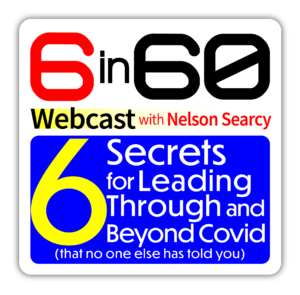 This Thursday you're invited to join me on a brand new webinar just for Senior Pastors. I'm limiting spots to just the first 100 though — so I encourage you to go ahead and save yours now.
This free Zoom training will focus on equipping you to lead during what I consider a dangerous time. The next few months of leading our churches beyond Covid are landmine-laden. There's a great danger — but also great opportunity for blessing and growth.
That's why I want to share with you key leadership secrets for leading through and beyond Covid…that it seems no one else is talking about!
Limited Spots for this Exclusive FREE Training Event — Available Only to First 100 Senior Pastors:
6 in 60 Webcast: 6 Secrets for Leading Through and Beyond Covid (that no one else has told you)
One-Time Only: THIS Thursday, August 19th @ 2:00pm – 3:00pm ET
FREE when you RSVP today — just click here to sign up! 
It's a 60-minute training that is timely to help you lead in the best possible way in order to reach more people for Christ during a critical time. I suggest you reserve your seat ASAP as we're over 50% full!
Based on my experiencing from leading The Journey Church and hands-on coaching currently with hundreds of pastors, I'll show you secrets that will help you lead better, more confidently and for greater Kingdom impact — all of which can be easily understood and quickly implemented by God's grace.
Don't miss this time-sensitive online training! By RSVPing now, you'll save your spot and get reminders about the 60-minute LIVE webinar so you don't miss this brand new teaching.
PLUS, when you RSVP you'll receive log-in details and these 2 bonuses:
1) An immediate FREE book summary of The Contrarian's Guide to Leadership by Steven B. Sample ($23.95 value). We've developed a full book summary of this best-selling book with surprising leadership tactics and exclusive key takeaways and applications for pastors!
2) And a FREE summary document of the live teaching that you'll receive right after the webcast.
Space is Limited Only to First 100 Senior Pastors – Click Here to Receive These Bonuses and Reserve Your FREE Spot Now!
Join me and a great group of senior pastors THIS WEEK for this brand new FREE training to help you lead more effectively during a challenging time.
Your partner in ministry,
Nelson
P.S. Plus when you sign up and SHOW UP to the live event on Thursday, I'll share one more bonus with you…a free download of my 3-hour resource, The Stress Management Seminar (a $299.95 value). (Because to say we're living and pastoring in a stressful time is an understatement!)
Don't Wait: Click Here to Reserve Your FREE Spot Now!
And, if you can help me get the word out, I would appreciate it, you can direct people to this link:
www.ChurchLeaderInsights.com/6in60