Brand New: 6 in 60 Webcast presented by Nelson Searcy and led by Kerrick Thomas
---
6 Differences Between Small Groups That Work and Those That Don't
---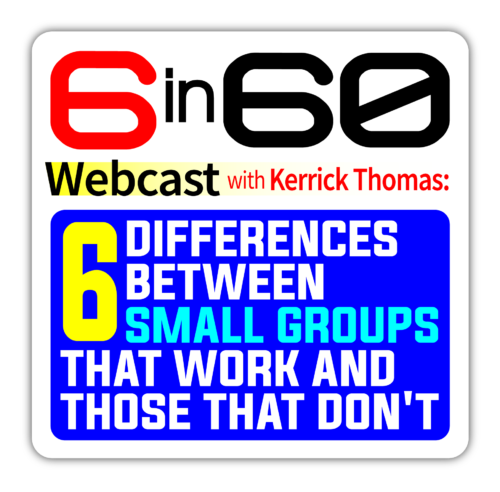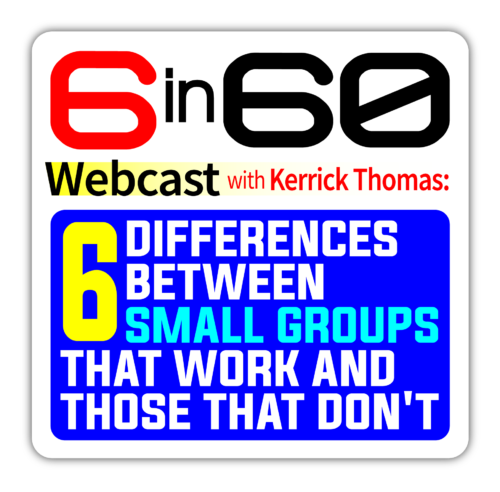 Join Pastor Kerrick Thomas for a new 6 in 60 event: 6 Differences Between Small Groups That Work and Those That Don't
LIVE via Zoom on Thursday, May 20 from 2:00pm – 3:00pm ET
FREE with RSVP – Limited Spots!
Small Groups are a great way to help your people grow in their faith, study the Bible, meet new people and enjoy fellowship. And over the past year, both online and in-person Small Groups have proved to be even more important in keeping people connected to the church, to their faith and to each other. At The Journey Church, Pastor Kerrick Thomas helped launch groups and today The Journey has over 100% of their average Sunday attendance in Small Groups each semester. In all Journey locations, they are currently holding Small Groups online and in person — and seeing great success!
But most churches are struggling in this critical area. There are ways they are doing Small Groups...that just don't work. People aren't signing up. Lives aren't being changed. So in this brand new 60-minute online training, Kerrick will show you 6 game-changers to create Small Groups that engage people, change lives and just really work!
Plus, he'll show you how to apply these 6 differences for both online AND in-person Small Groups!
In this brand new webcast, here's some of what you will discover:
The #1 differentiator for the most effective Small Groups
Easy ways to increase Small Group sign-ups (emphasis on easy)
The biggest mistake you could make right now when planning your Small Groups
How to adapt these best practices for Online Groups — including real-world applications implemented over the past year
The key to Small Groups leadership that works (what you do here will prevent burn-out and keep your groups engaging)
The optimal size and time limit for Small Groups (it might not be what you expect!)
Plus more actionable lessons packed in 60 minutes than you'll find anywhere else (we promise!)
---
RSVP Now to Attend for FREE