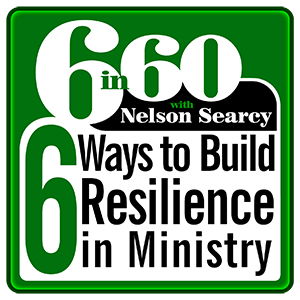 Words sting. Members leave. Projects denied. Covid continues. Spiritual warfare wages. Anxiety appears. Setbacks occur.
Ministry often feels like two steps forward and one step back (at its best). But you don't need to feel overwhelmed, discouraged or even mad at God.
Resiliency is learning to manage the spiritual, mental and emotional consequences of setbacks. I've lived with these setbacks and studied resiliency for years, discovering that it's a secret all growing pastors have developed.
That's why I invite you to join me this Wednesday for a brand new online Zoom training:
6 in 60 Webcast: 6 Ways to Build Resilience in Ministry (and Bounce Back from Personal and Pastoral Setbacks)
THIS Wednesday, Feb. 16th @ 2:00pm – 3:00pm ET
FREE with RSVP until Tuesday, Feb. 15 (will be $49 after) — Hurry, Limited to the First 100 Senior Pastors:
In this fast-paced, practical teaching you'll learn six biblical ways to build resilience. I suggest you reserve your seat ASAP as space is limited only to the first 100 Senior Pastors.
Setbacks will always be with us and the more our church grows, the bigger the setbacks. But as you'll discover in this 60-minute online training, you can grow your resiliency and keep moving forward as you pursue God's will!
Don't miss this time-sensitive online training! By RSVPing now, you'll save your spot and get reminders about the 60-minute LIVE webinar so you don't miss this brand new teaching.
PLUS, when you sign up now AND show up to the live training, you'll be eligible to win: 
A FREE $50 Amazon gift card — awarded during the webcast (you must be online and hear your name called to win!)
Plus, 3 additional winners will receive a FREE $50 Church Leader Insights gift card — also awarded during the webcast!
Space is Limited Only to First 100 Senior Pastors – Click Here to Reserve Your FREE Spot Now! 
Join me and a great group of high-achieving pastors this week for this brand new FREE training to help you build resilience and improve your leadership!
Your partner in ministry,
Nelson
P.S. Go on and also forward this to your staff and other pastors you know who could use some resilience in their leadership!
You can direct people to this link:
www.ChurchLeaderInsights.com/6in60