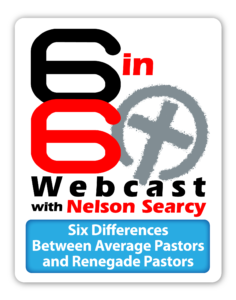 You're invited to sign up now for a brand new FREE Zoom training this Tuesday where you'll discover 6 quick ways to overcome the pull of "average" — and pastor with a healthier, more impactful approach to ministry.
It's a 60-minute training that is timely to meet today's challenges!  I suggest you reserve your seat ASAP — space is limited to just 100 spots at this one-time online event:
6 in 60 Webcast: 6 Differences Between Average Pastors and Renegade Pastors 
Tuesday, April 27th — LIVE from 2:00pm to 3:00pm ET
FREE when you RSVP today — just click here to sign up!
For the average pastor, years of ministry — especially after the challenges we faced this past year — have decreased your passion and increased your frustration. In the midst of life's chaos and the weekly pressures, "average" may have become your new standard.
But in a time like this, you are called to so much more. 
In contrast to the average pastor, a "Renegade Pastor" is committed to abandoning average in their life and ministry. This approach leads to less time and energy wasted on things that don't grow the Kingdom. And this non-traditional view of doing church leads to greater overall health in 4 areas — emotional, mental, physical and spiritual.
I've been living is "Renegade Way" and teaching pastors how to do the same for over a decade. As a pastor myself in the trenches of ministry, my teaching is based on practical, real world strategies that you don't find in seminary.
And as we continue to manage today's challenges in the wake of the pandemic, I want to share a few of these critical methods with you now. The pandemic has exhausted and demoralized so many pastors. Now is the time to refocus and get re-energized — now is the time to abandon average! 
Join me and a great group of pastors for this brand new FREE training as we work towards a Post-Coronavirus future — and a healthier, more productive way of doing church.
Don't wait — Click here to reserve your FREE spot now!
Nelson
P.S. This brand new online training this Tuesday is FREE if you RSVP and all you need is an Internet connection to participate via phone, tablet or computer. And we're keeping it to 60min max with 6 BIG IDEAS.
I encourage you to share this with your staff and key volunteers — have an online watch party with them. You can all watch separately at the same time and then have discussion afterwards. The more the merrier!
And, if you can help me get the word out, I would appreciate it, you can direct people to this link:
www.ChurchLeaderInsights.com/6in60