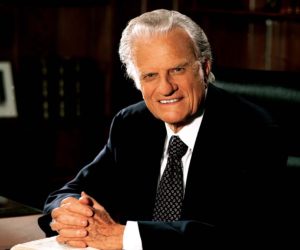 Today marks the anniversary of Billy Graham's death. So today we are remembering the life and legacy of the 20th century's greatest evangelist.
And I have two free gifts for you that celebrate Graham's impact and guide you in your own ministry (below).
As he did for many, he impacted me in profound ways. In 1989, his book Peace with God was an instrument God used to bring me to Christ. On my bookshelf is a copy of the book (which I bought in a used bookstore just down the street from the University I was attending). I also have a watercolor of the park where I studied the book for several days in late October.
Fast forward to 1994, I met Mr. Graham, along with other great evangelists, at the North American Conference for Itinerate Evangelists in Louisville.
I could go on to even more recent engagements with Dr. Graham and the influence of his ministry.
But what I wanted to provide for you today is two gifts that will both honor his legacy and inspire you in your own ministry: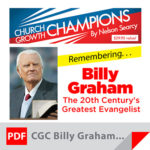 FREE: CHURCH GROWTH CHAMPIONS REPORT ($29.95 VALUE)
This is a four-page PDF report I put together on his life, ministry, influence, best quotes, best books and more. It will give you a great overview of Dr. Graham's life and legacy, from his early beginnings to his big achievements in growing the Kingdom. It's also a look at the lessons we can learn and use now in our ministry. Normally this is only available to members of my Renegade Pastors Network but I'd like to give you an inside look today on this occasion.
Click here to secure these free gifts to celebrate Billy Graham — and guide your own ministry!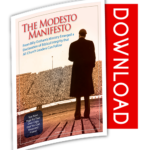 FREE: FOUR-COLOR KEEPSAKE ON BILLY GRAHAM'S FOUR WAYS TO AVOID THE TEMPTATIONS OF MINISTRY ($89.95 VALUE)
You'll also receive this framable collector's guide with Graham's secrets to a scandal-free ministry!
I carefully researched and assembled this colorful keepsake based on the four principles that emerged from Graham's "Modesto Manifesto" — a pact that set the standard for protecting your ministry from temptation.
The Manifesto included four key principles to guard against:
– Financial Abuse
– Sexual Immorality
– Pride (specifically with relationship to other local churches)
– Lying and Deceit (specifically regarding publicity and reporting of attendance numbers)
No formal document was ever created . . . until now.
I'd like to share this with you to help you equip yourself and your church during these challenging times. Your colorful reference guide (PDF) includes each principle, applicable Scripture to study and commentary from Billy Graham. You'll be able to print this out, frame it and keep it by your desk.
Click here to secure your FREE PDF downloads of Billy Graham's guide to a scandal-free ministry AND the church growth report.
I'll keep this page open only thru tomorrow — so please go ahead and access your free gifts now.
Thanks for your commitment to the Kingdom!
Your partner in ministry,
Nelson
P.S. As these documents are normally only shared with my paid coaching members, I'll only have this link up thru tomorrow — so be sure to download your gifts now.
Click here to pick up your free gifts to celebrate Mr. Graham's life and legacy! 
Praying that as you study Graham's principles, you are inspired to live by them as I have been.