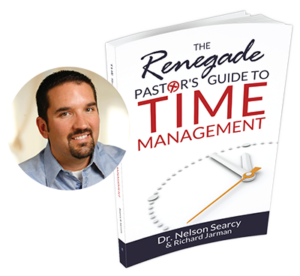 How about a free copy of my proven, practical book on Time Management?
We discovered an extra case in our warehouse and rather than have the books sit there not helping anyone, I'd like to give them away to you and other Senior Pastors.
It's a great book to dive into here at the end of the year, leading into 2022, and it can also make a great gift book or staff study. This book helps solves a big problem we can ALL relate to as pastors — a shortage of TIME.
This easy-to-read book contains 30 short principles to put you and your team members on the path to better time management. Any of these tips will help your team see immediate time savings and near-instantaneous productivity gains!
That's why I'm giving this book away to you. Click here to secure your copy now.
Because each of us only gets 24 hours in a day and this book will help you make the most of each minute.
I'm pretty passionate about this topic…so I've decided to give out as many copies as I can. You can pick up one, two or five copies for gifts or staff study.
Yes, really, I bought the book, and I'm giving them away to whomever claims them first.
Is there a catch?
I guess it depends on how you look at it. The book retails for $19.95. But you'll pay nothing for your book copy. I just ask that you cover a very small amount of actual postage to claim yours so that I can give out as many as possible to Senior Pastors like you!
I've also included a couple of bonus resources on stress and energy management that you'll receive as soon as you order your copy.
I must warn you though that supplies are very limited — I only have this one case left — less than 60 copies available now — and the books are going fast — click here to claim your free copy now!
I bought them for you so you don't pay for the book itself, just your actual postage.
Nelson
Offer expires as soon as we run out of books!