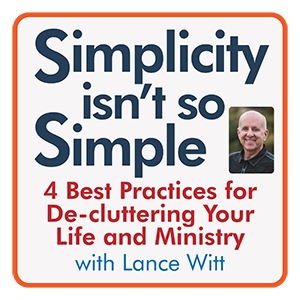 I'd like to invite you to join me THIS Thursday for a timely FREE online training that will help you de-clutter your life and ministry.
Because a growing number of pastors are feeling worn out, overwhelmed and over-scheduled. Ever-increasing demands on pastors coupled with a new post-Covid reality often result in little margin for the pastoral priorities that matter most.
RSVP now for a packed 60-minute Zoom training with Pastor Lance Witt: Simplicity Isn't So Simple: 4 Best Practices for De-cluttering Your Life and Ministry.
Space is limited this Thursday: Click here to learn more and reserve your FREE spot now!
And when you RSVP now for free you'll also receive these bonuses…
– You will immediately get a BONUS hour-long interview where I talk with with Lance about Building Emotional Health ($49.95 value)
– And when you sign up AND show up to the live training, you'll be eligible to win one of five FREE downloads of Lance's 3-hour resource, REPLENISH: The Pastor's Guide to Leading from a Healthy Soul ($299.95 value). This will be awarded during the webinar — senior pastors, you must be online at the end and hear your name called to win!
Lance has been a longtime colleague and friend to my coaching networks as a frequent speaker and contributor. He is known fondly as a "pastor's pastor" who helps people in ministry live and lead from a healthy soul.
And he himself has been in the trenches of ministry — serving for over 20 years as a senior pastor and seven years as an executive/teaching pastor at Saddleback Church with Rick Warren. He is also a nationally-recognized author and speaker who is passionate about working with pastors to stay healthy and "finish well."
In this fast-paced, highly practical training, Lance will explore: 
– The obstacles that make simplicity a challenge for pastors.
– What makes simplicity not just an external battle, but an internal one
– The essential elements of simplicity and what it's really connected to
– A simple but powerful equation for simplicity that will become your mantra!
– And of course the 4 best practices you need to de-clutter your life and ministry!
FREE with RSVP while spots still available…
New 60-minute Zoom Training:
Simplicity Isn't So Simple: 4 Best Practices for De-cluttering Your Life and Ministry 
This Week, One-Time Only:
Thursday, February 9th @ 1:00pm – 2:00pm ET
Don't miss this time-sensitive online training! By RSVPing below, you'll save your spot and get reminders about the 60-minute LIVE Zoom webinar so you don't miss this brand new teaching.
Space is Limited – Click Here to Reserve Your FREE Spot Now! 
Join a great group of high-achieving pastors this Thursday for this brand new FREE training to help you develop best practices for simplicity in your life and ministry!
Your partner in ministry,
Nelson
P.S. Go on and also share this to your staff and other pastors you know who could also benefit from some simplicity and de-cluttering. Just invite them to go here:
www.ChurchLeaderInsights.com/Simplicity 
One-Time Only — THIS Thursday, Feb. 9th – Sign Up Today for FREE!