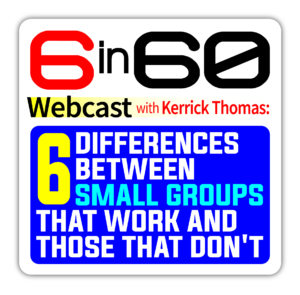 Over the past year, both online and in-person Small Groups have been very important in keeping people connected to the church, to their faith and to each other.
At The Journey, we consistently have over 100% of our average Sunday attendance in Small Groups each semester. And in all Journey locations, we're holding Small Groups online and in person — with great success.
And we want to share HOW with you. Join us for a brand new online training to discover 6 game-changers to create Small Groups that engage people, change lives and just really work!
6 in 60 Webcast: 6 Differences Between Small Groups That Work and Those That Don't
Thursday, May 20th — LIVE from 2:00pm to 3:0opm ET
FREE when you RSVP today — just click here to sign up! 
It's a 60-minute training that is timely to meet today's challenges! I suggest you reserve your seat ASAP — space is limited to just 100 spots at this one-time online event.
You'll also discover how to apply these 6 differences for both online AND in-person Small Groups!
In this brand new webcast, here's some of what you will learn:
The #1 differentiator for the most effective Small Groups
Easy ways to increase Small Group sign-ups (emphasis on easy)
The biggest mistake you could make right now when planning your Small Groups
How to adapt these best practices for Online Groups — including real-world applications implemented over the past year
The key to Small Groups leadership that works (what you do here will prevent burn-out and keep your groups engaging)
The optimal size and time limit for Small Groups (it might not be what you expect!)
Plus more actionable lessons packed in 60 minutes than you'll find anywhere else (we promise)
DON'T MISS this time-sensitive online training! By RSVPing below, you'll save your spot and get reminders about the 60-minute LIVE webinar so you don't miss this brand new teaching.
PLUS, when you RSVP you'll receive log-in details and these 2 bonuses:
1) An immediate FREE Quick-Read book summary of Activate: An Entirely New Approach to Small Groups by me and Kerrick Thomas ($23.95 value). This Revised & Expanded edition covers the foundational principles of the Small Groups system. This will introduce you to the "Activate" system that regularly sees 100% adult participation in groups and leads to true life change. We highly encourage you to read through this summary before the webcast!
2) And a FREE summary document of the live teaching that you'll receive right after the webcast.
Click here to RSVP now to receive these bonuses and access to the live training! 
There's no need to reinvent the wheel — sign now and hear the tried and true methods that differentiate the most effective Small Groups!
Your partner in ministry,
Nelson
P.S. This brand new online training this Thursday is FREE if you RSVP and all you need is an Internet connection to participate via phone, tablet or computer. And we're keeping it to 60min max with 6 BIG IDEAS.
I encourage you to share this with your staff and key volunteers — have an online watch party with them. You can all watch separately at the same time and then discuss your action steps afterwards for faster implementation!
And, if you can help me get the word out, I would appreciate it, you can direct people to this link:
www.ChurchLeaderInsights.com/6in60