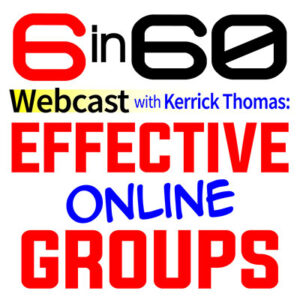 Now during the pandemic, small groups are even more important to keep people connected to the church, to their faith and to each other.
At The Journey, we've seen great success with moving small groups online — and we want to share these proven best practices with you! Join us THIS Thursday, July 16 for a brand new online training:
6 BIG IDEAS IN 60 MIN (OR LESS) FOR EFFECTIVE ONLINE GROUPS
Thursday, July 16th — LIVE from 11:00am to Noon Eastern
FREE when you RSVP today — just click here to sign up! 
You'll discover how easy it can be to make the switch to online groups. Discover the most important things you need to know to get started — and see high participation and great life change come from your online groups!
In this brand new webcast, you will learn:
The top 3 barriers to people signing up for an online small group (plus strategies to overcome them!)
Easy ideas to increase the "show-up" rate for your online groups.
What to do the first 5 minutes and the last 5 minutes of each group to make online seem personal.
How to solve the technology challenge…do we use Zoom or something else, how do I train people to do online groups, what about those who can't figure out video conferencing?
Why every online group should have a coordinator (and what that is) or co-leaders!
Creative ways to promote online groups . . . and how to make it easy for people to sign up.
How to effectively train your small group leaders to lead online (and why if you do this right — they might want to lead online every time).
The optimal size and time limit for online small groups (it might not be what you expect!)
Plus bonuses, stupid jokes and more actionable lessons packed in 60 minutes than you'll find anywhere else (we promise!)
DON'T MISS this time-sensitive online training! By RSVPing below, you'll save your spot and get reminders about the LIVE stream so you don't miss this brand new teaching.
PLUS, when you RSVP you'll receive log-in details and these 2 bonuses:
1) An immediate FREE book summary of Activate: An Entirely New Approach to Small Groups by me and Kerrick Thomas ($23.95 value). This Revised & Expanded edition covers the foundational principles of the Small Groups system. This will introduce you to the "Activate" system that regularly sees 100% adult participation in groups and leads to true life change. We highly encourage you to read through this summary before the webcast!
2) And a FREE summary document of the live teaching that you'll receive right after the webcast — along with a link to the event recording.
Click here to RSVP now to receive these bonuses and access to the live training!
Sign up now to hear the 6 easy-to-implement ideas for effective online groups. We look forward to sharing this practical training with you this Thursday.
Nelson
P.S. This brand new online training this Thursday is FREE if you RSVP and all you need is an Internet connection to participate via phone, tablet or computer. And we're keeping it to 60min max with 6 BIG IDEAS.
I encourage you to share this with your staff and key volunteers — have an online watch party with them. You can all watch separately at the same time and then have discussion afterwards. The more the merrier!
And, if you can help me get the word out, I would appreciate it, you can direct people to this link:
www.ChurchLeaderInsights.com/6in60