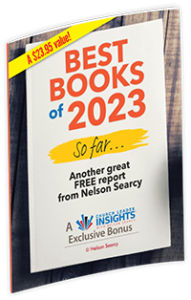 We're more than halfway through the year (which has sure been another one for the record books) and a happy thought occurred to me — we've seen a lot of great books already released in 2023!
And I've read quite a few of them (Over 150+ at this moment + a lot of reviews and summaries. Yep, I'm a book fanatic).
I normally send out a full list of the Best Books of the Year in December — but I didn't want to wait until then. I'd like to give you a head start on the top leadership and ministry books that you should be adding NOW to your pastor's reading list.
Don't waste another minute trying to figure out what to read next…I've made you a short list of the Best Books of the Year – So Far! 
And it's FREE for you today through Monday only!
Click here to secure your FREE Best Books report now! 
I love putting this list together because I know that leaders are readers — and I'm going to do everything I can to save you time and focus your attention where it needs to be for maximum growth and development.
Save yourself time, effort and money with this FREE list!
If the quality of the books released during the first half of the year are any indication, 2023 can absolutely be a banner year of learning, reading and growing for all of us. In this list you'll find:
Communication secrets from one of the best communicators in the world
Proven strategies for pastors who are leading their churches without assistance — and who need help and encouragement
The keys to a thriving culture and how you as a leader can make a difference with just 3 simple rules
A Scripture-based, not-your-average self-help book from a pastor and best-selling author who will help you find joy in every day, not matter what
Proven strategies to evaluate your God-given gifts, talents and skills so you can use them to the full extent God desires
A concise biblical theology exploring God's mission throughout Scripture — you'll be inspired in your own preaching!
And more!
Plus I've added bonus content on my tips for being a better reader and how to get the most out of what you read!
I'm excited to give you this inside look into what I'm reading and learning. Go ahead and click here to download your free Best Books of 2023 – So Far! report now. The link will only be up thru this Monday, August 14.
Nelson
P.S. Know of another pastor who would enjoy these book and reading tips? Go ahead and share the link with them.
Secure your Best Books report now for the top leadership and ministry books that every pastor should read!
Don't delay, this report will expire Monday.