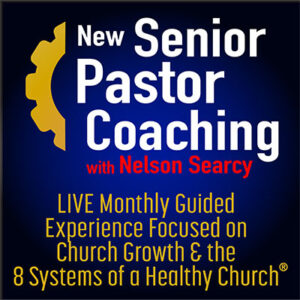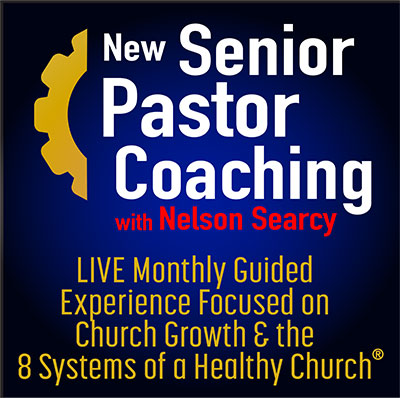 Church in the post-Covid era is similar to church before Covid (in more ways that you expect)… yet drastically different (in more ways than you know).
For pastors, this is a critical time, with weighty decisions to make about attendance, safety, programs, online church, staffing, and much more. The question is: How do you navigate these unprecedented times?
What if I could personally walk with you through the next year of ministry as your guide, sounding board, and coach?
I can… but there's no time to waste!
Introducing the LIVE Senior Pastor Coaching Network – beginning this Week!
For the first time in a decade, I am reintroducing live coaching. Our focus? The Eight Systems of a Healthy Church® tailored for this unique era.
Click here to learn more and reserve your spot to join me this Tuesday!
Since 2005, I have been coaching pastors to grow their churches exponentially by helping them implement The Eight Systems of a Healthy Church.
God has blessed this coaching and these churches have seen incredible results. This new network will be a combination of all that I have learned in coaching pastors but also from leading The Journey Church through Covid and into this new challenging environment.
I will personally lead these monthly 90-minute sessions LIVE online via Zoom, where I will teach you how to:
• Grow your church in this new reality
• Position your church for greater Kingdom impact
• See more people come to faith than ever before
• Strengthen each of the Eight Systems
• Restore broken or ineffective systems
• Maximize In-Person and Online services
• Increase small group participation
• Reach and keep more first-time guests than ever before
• Raise the Level of Stewardship through cultivating current givers and attracting new givers
• Keep the evangelistic temperature of your church fiery hot
• Mobilize more committed and excited volunteers than before Covid
• Strengthen and adjust your leadership team and structure
• Become an expert on church growth principles and healthy church systems equal to or greater than a DMin (at a fraction of the investment).
• And more!
DATE & TIME:
Our first session is THIS Tuesday, August 22nd, from 2:00pm – 3:30pm Eastern.
I'll lead each 90-minute session LIVE every month for a year, and you'll also have access to Q&A sessions, an overabundance of resources, free event passes, and much more. Plus, recordings of all sessions will be available, ensuring you never miss out.
BENEFITS & INVESTMENT:
• Monthly personal LIVE coaching over Zoom.
• Exclusive content, resources, and bonuses tailored to your current challenges.
• The collective experience of a community of like-minded pastors.
• Sessions packed with lessons, discussions, and implementation strategies.
• Affordability: Secure your spot for just $247/month!
DON'T DELAY
Spots are limited and demand is high. We're not just planning for the next year but for a prosperous future for your church.
You'll also get a TON of bonuses when you join now, including free resources, free event passes and more. (See the PS for full details of everything you will receive – or click the link below.)
24 HRS LEFT: SECURE YOUR SPOT IN THIS PIVOTAL NEW NETWORK — AND ACCESS YOUR BONUSES:
Click here to learn more and reserve your spot to join me this Tuesday!
Don't face these times alone; let's journey together. Let me, with my two decades of coaching experience, be your guide. Embrace the challenges, anticipate the opportunities, and let's make the next year exceptional for the glory of God.
Nelson