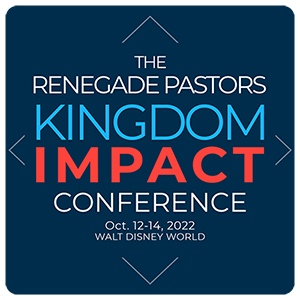 Hey, I have a special invitation for you today for an event that is unlike any conference I have led before.
I hope you can be a part of this small gathering of motivated pastors. Because we're going to work through some unique questions:
1 – How do you use every minute of your life (walk with God, family, church, friendships, abilities, etc) for Kingdom Impact?
2 – What it means to make a Kingdom Impact from a biblical, historical and church growth standpoint. 
3 – How do I equip you to be a trainer for my Eight Systems of a Healthy Church®? This will be the gathering where you can be certified and start the process to teach other pastors, locally and globally, the systems that have helped you. I'll spell this out when we meet in October.
4 – How do we see more people surrender their lives to ministry or answer the call to missions in our church, in the places we have influence or where we might speak than ever before. We need to come together and raise the value of answering the call to ministry. This requires new approaches and languages. More in October.
5 – Finally, we will have some fun at this conference by brainstorming within our group and (hopefully) hearing from some of the top pastors in America via TikTok type videos that I'm asking them to prepare. I will, of course, have my list of lessons learned from 30 years of ministry and the 7+ years of deep dive study.
If any of these focuses stir your heart and motivate you in your calling, you just can't miss this one-time-only event that is 30 years in the making…
THE RENEGADE PASTORS KINGDOM IMPACT CONFERENCE
Dates: Wednesday, Oct. 12 – Friday, Oct. 14, 2022
Last day ends at 12:30pm on Friday, making it easy to travel out
Location: Walt Disney World, Orlando, FL 
With just ONE super low investment you can register you and your spouse plus bring any pastors on your staff or anyone in your church who is considering pastoral ministry! 
You read that correctly, for the first time ever you'll be able to bring an entire group for one low rate — if they are current pastors on your staff, or seeking the title of pastor, and they are from your church or family, you can bring them!
Don't wait to sign up — seating is limited plus the special hotel rate of $89/night will sell out. Register at your Super Early Bird rate by Friday, Sept 9.
 
Click here to learn more or to secure your spots now for you for one super low rate!
Traditional church growth history has said that the greatest thing you can do for the Kingdom is to grow a healthy church. This has been my primary focus in coaching pastors through my healthy systems approach.
But what happens after that? What comes next?
Turns out there are a number of ways that you can continue to invest in the Kingdom. This includes taking more intentional steps to call out the called in our churches and training others to grow healthy churches as well.
BECOME AN OFFICIAL EIGHT SYSTEMS TRAINER! 
Another area of Kingdom Impact growth is investing in other pastors. Because you are NOT in competition with the other pastors in your area or in your denomination. You are on the same team with them.
You compete with the bars, restaurants, clubs, sports and weekend activities that keep people away from church. But you do not compete against the other pastors around you who are trying to maximize their churches too!
That's why at this exclusive gathering of high-achieving pastors, I will commission everyone who attends to go out and teach my basic systems seminars! You will leave the event being able to lead a half-day systems training for pastors in your area. And you'll find out exactly how we will support you in this, with all the materials and training resources you will need to make an impact.
Don't miss this exclusive certification — but don't worry, you will not be under any obligation to lead a training if you don't feel ready to called to yet.
Click here to learn more about this bonus session! 
GET 30+ OTHER IDEAS AND STRATEGIES TO MAKE A KINGDOM IMPACT! 
And you'll get dozens of other ideas and strategies for how pastors can personally make a Kingdom Impact (to reveal all here would diminish them but you will get a workbook full of these ideas!).
I'm pulling together all of my biggest Kingdom Impact strategies to share with you. Plus calling on my fellow national ministry leaders, megachurch pastors, Titanium members (my highest level of coaching) and more to share their insights in person and through recorded video!
THE TIME IS NOW — WILL YOU JOIN ME IN MAKING A BIG DENT IN HELL?
We are at a critical point in church history as Christianity is on the decline. It's time to revitalize both our churches and our commitment to grow the Kingdom in brand new ways.
As pastors we are facing one of those moments that will influence the future of our ministries — and the salvation of our people!
I hope you will join me and this incredible group of radically called pastors as we take a sledgehammer to hit hell as hard as we can!
Look forward to seeing you LIVE in-person back in Orlando!
Your partner in ministry,
Nelson
P.S. At this one-time-only conference, we'll cover four key areas for making a Kingdom Impact:
How to call out the called 
How to lead and grow a healthy church
How to train other pastors locally and globally to lead and grow healthy churches
And dozens of other ideas and strategies for how pastors can personally make a Kingdom Impact (to reveal all here would diminish them)
I'm personally looking forward to leading this one-time-only event and seeing you in-person back in Orlando.
Don't miss this Super Early Bird Rate, only thru Friday, Sept. 9th — One low investment for you, your spouse, and for any pastors on your staff or those in your church who are currently pursuing ministry! 
Questions or prefer to register by phone? Call us at 561.921.8488, ext. 2.
Or Click Here to Learn More or Secure Your Spot Now!