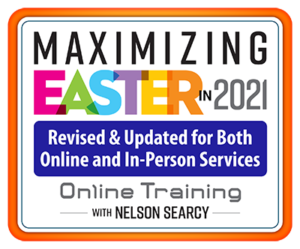 Hey, we're just one week away from my brand new FREE Zoom training on Maximizing Easter that adapts the key principles to our current reality of meeting online, in-person or both.
Spots are filling up fast for this 90-minute training… I suggest you reserve your seat ASAP for one of the 5 remaining training times on March 2, 3 or 4. It's FREE when you RSVP by Feb. 28th! 
Click here to learn more and reserve your FREE spot now!
Don't let this be an average Easter — at this online training, I will show you easy, practical ways to Maximize Easter for both in-person and online church. You will discover the easy-to-implement (and proven!) ideas you can use to overcome your current challenges and still GROW your Easter attendance.
Reserve your seat ASAP for this 90-minute Zoom webinar…
LIMITED SPOTS: MAXIMIZING EASTER IN 2021 – Revised & Updated for Both Online & In-Person Services
Just One Week Away: You can now choose from 5 convenient times running on:
Tues., March 2nd @ 11:00am – 12:30pm ET — NOW FULL! 
Tues., March 2nd @ 2:00pm – 3:30pm ET
Wed., March 3rd @ 11:00am – 12:30pm ET
Wed., March 3rd @ 2:00pm – 3:30pm ET
Thurs., March 4th @ 11:00am – 12:30pm ET
Thurs., March 4th @ 2:00pm – 3:30pm ET
This brand new 90-minute training is FREE for you but you must register by Feb. 28th to get access. Also spots are limited at each time slot so don't wait to save your seat!
Click here to learn more and reserve your FREE spot now for my Maximizing Easter in 2021 online training! 
(If the link above is still working, there's still space but the spots will go quickly.)
BTW, this is an online training event where I teach you over the Internet (you can hear me and see my notes right online). All you need is a computer with speakers or headphones and Internet access – no phone line or long distance required.
Plus, when you sign up now you'll receive two immediate bonus resources valued at $73.95:
FREE Eight Systems of a Healthy Church E-book — This revised & expanded e-book gives you an understanding of all eight systems with practical insights so that you can start making changes in your church for maximum health and growth this year.
FREE Developing a One-Year Personal Growth Plan Audio Training — Don't leave your personal growth to chance in 2021! You'll learn how to develop a personal growth plan to ensure that you are a better leader at the end of the year than when you began.

Easter this year will look different than any Easter before. But even in the midst of a pandemic, the power of the resurrection of Jesus Christ still possesses a tremendous spiritual draw.

So why not pull out all the stops and do EVERYTHING you can to harness the power of Easter Sunday to reach people and make disciples?

Your partner in ministry,

Nelson

P.S. This training is free for you when you sign up by Feb 28th, but space is limited — don't get left out!

You have 5 remaining times to choose from but space is limited to 100 spots at each training.

Click here to reserve your FREE spot now before it's too late!