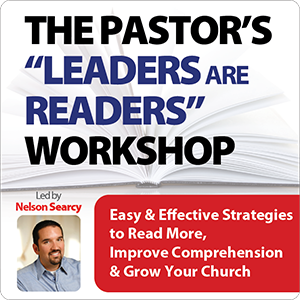 Full confession: I wasn't always the voracious reader that I am today, averaging 5-7 books a week. I certainly didn't grow up with a love for reading.
In fact, I never even completed a book from start to finish prior to age 17!
I do like to say that "God gave me a passion to read" and while that's true, I've also developed a system (imagine that!) for reading that improves recall and keeps me focused on what is most beneficial and helpful to my ministry as a pastor and leader of leaders.
And because all leaders are readers…I'd like to share this system with you THIS Thursday for FREE!
Through this brand new online event — The Pastor's "Leaders are Readers" Workshop — you can learn easy and effective strategies to read more, improve your comprehension and grow your church! (And you don't have to become a speed reader.)
Click here to learn more and reserve your FREE spot now for my new online workshop — space is limited!
It's true that NOTHING will accelerate your growth as a leader more quickly than increasing your capacity to read and comprehend more — plus reading the right books!
And now in this one-time-only online workshop, I've agreed to reveal my (closely guarded) secrets about: 
How to find time to read (without robbing time from the more important things)
How to know what to read (and what NOT to read)
How to read more even if you struggle or hate reading!
How to increase your reading speed (hint: it's not by becoming a speed reader)
How to RETAIN what you read
How to get everything you can from a book
How to stay motivated to read (and not feel guilty if you aren't)
The best alternative ways to learn even beyond reading
Plus much more!
FREE with RSVP while spots still available…
New 90-minute Zoom Training:
The Pastor's "Leaders are Readers" Workshop: 
Easy and Effective Strategies to Read More, Improve Comprehension and Grow Your Church
This Week, One-Time Only:
THIS Thursday, July 6th @ 2:00pm – 3:30pm ET
Don't miss this very practical and game changing online training! By RSVPing below, you'll save your spot and get reminders about the 90-minute LIVE Zoom webinar so you don't miss this brand new teaching.
RSVP for free and when you attend live, you'll also receive several show-up bonuses (over $722.00 value)…
– FREE 3-hour audio resource that complements this training: How to Read More, which goes even further on my proven secrets for improving your retention without having to be a speed reader.
– FREE download of my list of the Top 5 Best Books of 2023 (so far!) that will save you a lot of time and increase the impact of your summer reading.
– Entered to win a FREE pass to my upcoming Church Growth & Systems Boot Camp, July 26-28 in Washington, D.C.
Click Here to Learn More and Reserve Your FREE Spot Now! 
Join a great group of high-achieving pastors THIS Thursday for this brand new FREE training to help you harness the power of reading to grow your leadership and your church!
Your partner in ministry,
Nelson
P.S. Go on and also share this with your staff and other pastors you know whose leadership could also benefit from a proven system for reading and comprehending more.
Don't Wait: Click Here to Reserve Your FREE Spot Now!
Special Training Event THIS Thursday, July 6th  – FREE Registration But Spots are Limited!