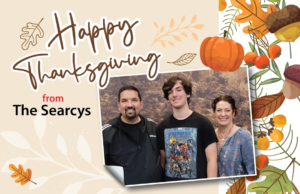 "And whatever you do in word or deed, do all in the name of the Lord Jesus, giving thanks to God the Father through Him."
– Colossians 3:17
I wanted to wish you and your family a Happy Thanksgiving!
Hopefully, you're preparing to spend a fun day with family and great food, like we are. Kelley, Alexander (now 15 years old and working on his second black belt in Karate) and I have some special plans and can't wait to get our day started!
I am grateful for you, for the ministry that God has called you to, and for the opportunity to serve you and your church.
So from my family to yours . . . Happy Thanksgiving!
Your partner in ministry,
Nelson