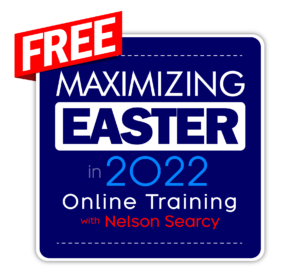 Hey, spots are going fast for my brand new FREE Zoom training on Maximizing Easter that will give you key last-minute actions to reach and keep more unchurched this Easter!
It's a 90-minute training that you won't want to miss! I suggest you reserve your seat ASAP — space is limited to just 100 spots at each of the 6 available training times next week, on March 29, 30 or 31.
Six time options over 3 days. Free 90min training. Select your preferred time before it fills up.
Click here to learn more and reserve your FREE spot now!

Limited Spots for this Exclusive FREE Training Event:
MAXIMIZING EASTER IN 2022
Last-Minute Actions You Still Have Time to Implement 
You can choose from 6 convenient times running NEXT WEEK on:
Tues., March 29 @ 11:00am – 12:30pm ET — ALMOST FULL! 
 
Tues., March 29 @ 2:00pm – 3:30pm ET
 
Wed., March 30 @ 11:00am – 12:30pm ET 
 
Wed., March 30 @ 2:00pm – 3:30pm ET
 
Thurs., March 31 @ 11:00am – 12:30pm ET 
 
Thurs., March 31 @ 2:00pm – 3:30pm ET
Note: These are the same trainings, just repeated on different days and times.
Ready to join me for this exclusive FREE training opportunity? Click here to sign up now!
A packed last-minute training for steps you still have time to take before Easter. Most can be implemented quickly with little or no cost. This small investment of time could reap more first-time guests, more new followers of Jesus and greater post-Easter assimilation.
It's not too late to take some small actions that will have a BIG impact in connecting with more people this Easter! Don't miss the opportunities to grow your church this Easter…coming out of the pandemic, in uncertain times, the power of the resurrection of Jesus Christ possesses a tremendous spiritual draw.
People need to hear this message more than ever! 
More pastors and churches fail to maximize Easter because they simply do what they've always done and hope for better results. But in 2022 — more than any time in the past — it's critical to adapt to our new reality.
That's why I encourage you to join me at this brand new training where you will discover the easy-to-implement (and proven!) ideas you can use to overcome your current challenges and still GROW your Easter attendance.
Collected, developed and honed at The Journey Church where I pastor and in over 3,000 coaching alumni churches around the U.S. and beyond — these proven principles will help you and your church truly maximize Easter this year!
This brand new 90-minute training next week is FREE for you but you must register to get access. Also spots are limited at each time slot so don't wait to save your seat!
Click Here to Reserve Your FREE Spot Now for my BRAND NEW Maximizing Easter in 2022 Online Training!  
Why not pull out all the stops and do EVERYTHING you can to harness the power of Easter Sunday to reach people and make disciples?
There's still time to have a big impact — I hope you'll join me and a great group of growth-oriented pastors to make 2022 your best Easter ever!
Your partner in ministry,
Nelson
P.S. Remember, as pastors it's our job to do everything we can to cooperate with God to maximize Easter and reach as many people as possible — especially during these uncertain times!
So save your spot now, this training is free for you when you sign up now, but space is limited — don't get left out! 
You have 6 available times to choose from NEXT WEEK but space is limited to 100 spots at each training.
Don't wait — Click Here to Reserve Your FREE Spot Now!
Don't Wait — Spots are Filling Up Fast!