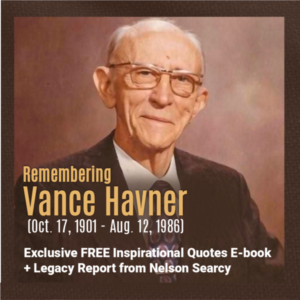 "I've never known a time when I didn't want to preach. The desire was always there." — Vance Havner (1901 – 1986)
Inspirational revival preacher Vance Havner passed away this month, 37 years ago. In remembrance of his lasting legacy, I've put together a brand new pastor's collection of Havner's best quotes plus a report on his achievements.
These gems can both encourage you as a pastor and be used in your own sermons. I invite you to download the e-book for FREE today.
Havner was known for his ability to communicate the gospel in an uncommonly clear manner. Crisscrossing the country, he preached at revival meetings, large and small. People loved to hear him.
Over his seven decades of ministry, he also wrote close to 40 books, reaching hundreds of thousands of readers. Each one featured the same kind of simple, memorable writing that helped people understand how to live life in Christ.
Even today, authors and speakers quote Havner's humorous, insightful phrases to illustrate the truths of the Bible. And you can now access for FREE a beautifully designed e-book that captures 30 of his best quotes, hand-selected by me.
Plus, you'll receive a FREE Church Growth Champions Report that dives into details of Havner's life, legacy and his revivalist ministry. And even more incredible quotes!
Just click here to access these free downloads ($59.95 value) — I'll keep the link up only through Friday, August 25th
Discover why Billy Graham once said, "I do not know of any man in my generation who has stirred revival fires in the hearts of so many people throughout the nation as has Vance Havner."
I hope you'll enjoy these free inspirational gifts ($59.95 value) — and join me in celebrating this Dean of America's Revival Preachers.
Nelson
P.S. Havner made a big impact on American Christianity, showing that the gospel can be understood by everyone, no matter their education level or social status. I hope you will be encouraged in your ministry as a pastor and a preacher as you dive into these exclusive materials.
Secure your Vance Havner inspirational bundle now