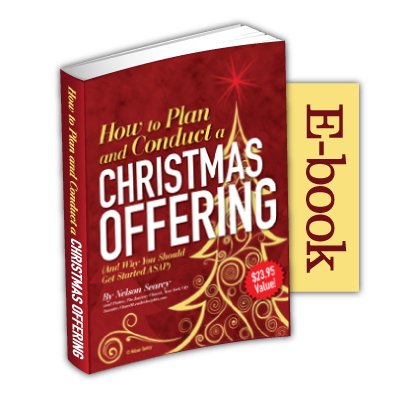 I had a great crowd on the line with me yesterday for the first of this week's "How to Plan and Conduct a Christmas Offering" Webinars and thousands of you have downloaded the updated Christmas Offering e-book that I released a couple of weeks ago.
In spite of my best efforts however, there are still a few questions that I wasn't able to deal with fully.  This is the first of a series of posts to answer your Christmas Offering questions from the webinars and from your emails.
Question number one is:
If we really push a Christmas Offering, won't that negatively impact our regular budget offering?
I hear this question all the time, and the answer is NO.
In most cases, if you carefully and prayerfully determine the causes you're raising money for, there will not be a negative impact on your regular tithes and offerings.
Like so many yes or no questions in leadership, however, there is a "BUT."
BUT you will have to clearly and repeatedly remind your people that the Christmas Offering is above and beyond their regular giving.
Remember, that's one of the biggest reasons WHY you're doing a Christmas Offering in the first place: to help your people grow by giving sacrificially.
Along these same lines –
I've noticed that the Christmas Offering is the first gift a lot of people ever give to our church, so as we follow up with them, thank them for their gift and help connect the dots between their giving and what God's doing through our church, they often become our most extravagant givers…
So, no, the Christmas Offering doesn't have to take away from your regular Tithes and Offerings (if presented properly).  Not to mention, in the long run it has the potential to bring in a bunch of new givers who will continue to give long after this special offering is past.
P.S. If you're ready to take your Stewardship System to the next level year-round (not just at Christmas time), check out The Stewardship Intensive.
P.P.S. It's not too late to join me for Tomorrow's "How to Plan and Conduct a Christmas Offering" Webinar – it's tomorrow (Thursday, October 14) from 4 – 5:15pm Eastern.  CLICK HERE TO REGISTER NOW!