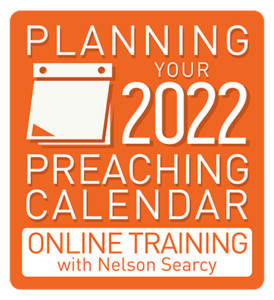 Hey, I still have some space available for the final replay of my Planning Your 2022 Preaching Calendar – Online Training. We have four times open now, starting TODAY at 11am ET.
Secure your spot now — I don't want you to miss out on this essential training that will have an exponential impact on all of 2022!
Plus, when you register for this final replay, you'll get access to my FREE 2022 Preaching Planning Guide. And when you show up for the event, you'll receive a FREE sermon series valued at $199.95.
You'll also receive a FREE 30-day membership pass in my network so that you can access this private training (keep scrolling for details).
First one is today at 11am ET — Click here to save your spot now!
On this online training today and tomorrow, I will walk you through 2022 Sunday by Sunday and look for the pitfalls and possibilities to help you plan what you're going to preach this year.
LIMITED SPOTS FOR THIS EXCLUSIVE TRAINING EVENT:
You can choose one of 4 convenient times on:
TODAY, Tues., January 25th @ 11:00am – 12:30pm ET
TODAY, Tues., January 25th @ 2:00pm – 3:30pm ET
Wed., January 26th @ 11:00am – 12:30pm ET
Wed., January 26th @ 2:00pm – 3:30pm ET
Note: These are the same trainings, just repeated on different days and times.
(Each training will be about 90 minutes long.)
Will you join me for this time-saving event? Just 90 minutes of your time will save you HOURS of planning time.
But you must act quickly: Spots are limited at each new time slot.
Even one idea can help you reach more people this year. That makes a few minutes of your time eternally worth it.
Your partner in ministry,
Nelson
P.S. It's not too late to kick-start your preaching planning for 2022! Get the guidance you need to increase your impact, lower your stress and break the week-to-week cycle!
You have 4 available times to choose from — starting TODAY — but space is limited to 100 spots at each training.
Don't wait – Click Here to Reserve Your Spot Now for this Final Replay!