No single issue keeps pastors awake at night more than staffing!
After studying everything I can get my hands on, coaching over 1,000 senior pastors and learning from my own experience, I've identified the most common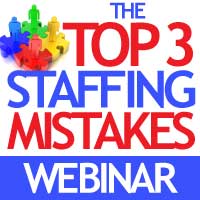 staffing mistakes and I'd like to share them with you…
Can you join me on a FREE Webinar TOMORROW (Wednesday, November 16) at 2pm Eastern?
I'd like to personally invite you to this 75-minute webinar where you'll discover the three most common mistakes Senior Pastors make in leading and managing your staff!
This webinar is free for you to experience from the comfort of your home or office (all you need is a computer with speakers or headphones and internet access – no phone line or long distance required).
Here's what you can expect to learn:
How to overcome your growth barrier and the role of your staff to break that barrier.
Why staffing is one of the most difficult tests of leadership and what you can do about it.
How to measure the commitment level of every staff member . . . every day.
Why being on a church staff is the highest calling anyone can answer and how to manage your staff according to their calling.
Plus much more!
Since the webinar is tomorrow, CLICK HERE NOW to SIGN UP!