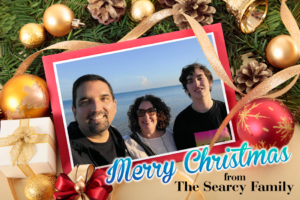 On this joyful Christmas Eve, I know we are all busy with preparations at church and home. But I wanted to pause for a moment to let you know how grateful I am to be part of your ministry and I look forward to serving you for many years in the future.
My family and I, and our entire Church Leader Insights team, want to wish you and your family a very Merry Christmas!
My wife, Kelley, Alexander (now 16 years old) and myself will be celebrating Christmas in the very non-wintery South Florida (though we are experiencing some nice chilly weather now — watch out for falling iguanas!).
I'm also celebrating 4 years cancer-free — praises to God for this Christmas gift!
I appreciate your continued prayers for my health and let me know how I can pray for you. Would be honored to do so!
God bless you,
Nelson
P.S. Praying for everyone's Christmas services — whether you are meeting online or in-person — and the impact of the Christmas story in transforming lives this week.
"For to us a child is born, to us a son is given; and the government shall be upon his shoulder, and his name shall be called Wonderful Counselor, Mighty God, Everlasting Father, Prince of Peace."