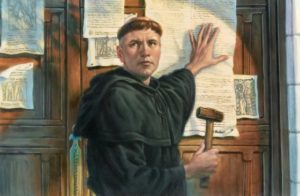 October 31 this year will mark the 505th anniversary of the start of the Reformation. On this date in 1517, a young German, Augustinian monk named Martin Luther nailed the 95 Theses to the Castle church door in Wittenberg. This document challenged the Catholic Church's corrupt practice of selling "indulgences" to absolve sin.
So why does this still matter today? The point is that the Reformation that Luther started then is far from over. We still have a lot of work to do. For example, a brand new LifeWay Research State of Theology study showed that 53% of Americans believe Jesus was a great teacher but not God. And for 60% of U.S. adults, religious belief is a matter of personal opinion; it's not objective truth.
We must remind our people of the foundational theological beliefs of the Christian faith.
Click here to read the LifeWay Research study.
Your partner in ministry,
Nelson