It's Tommy Duke here, Community Pastor at The Journey Church, VP of Training for Nelson Searcy and Church Leader Insights, and leader of the brand new Assimilation Tele-Coaching Network that starts in less than two
weeks (Tuesday, October 18).
Today I'd like to share with you the number one reason most churches aren't effectively connecting newcomers into the life of their church…
It's hard to follow up with someone if you don't have their name and contact info!
Seems simple, right? But I can't begin to tell you how many Monday mornings over the years I had to ask my staff and key volunteers "did you catch that person's name?" or "do you know who they came with?"
As a pastor and a long-term student of why some churches grow and others don't, I've observed that this vital step – collecting information from First Time Guests – is too often neglected or poorly executed.
And without that information, you and I are powerless to thank people for coming, invite them back again and encourage them to take next steps in their spiritual growth.
Thankfully for me, many years ago I was introduced to Nelson Searcy's Assimilation System – from First Time Guests to Fully Committed Members – and one of the key elements of this system is the use of a weekly Connection Card.
This is a card that everyone completes each week (not just new people) and it includes both contact information and important next steps for people to take in their spiritual journey.
Each week, between 70 and 80% of our attendees complete a connection card, giving us the opportunity to better connect new people and strengthen our existing disciples.
This is just one reason why I want to invite you to apply for my Brand New ASSIMILATION Tele-Coaching Network, starting Tuesday, October 18. In this network, not only will I show you what your Connection Card should look like, but I'll also coach you through how to present the card each week to insure that your people use it!
Beyond that, I will coach you through each step of the Assimilation process – from the moment a newcomer first arrives at your church to the time they sign up for membership.
In fact, in the new Assimilation Tele-Coaching Network, you will learn:
How to teach your entire church to see first time guests as gifts from God.
How to obtain full staff support for the assimilation system.
How to change the culture of your church to be guest friendly.
How to recruit volunteers to run your assimilation system.
How to get 70 – 80% connection card completion rate each week.
How to preach and teach on Biblical hospitality.
How to integrate prayer and the assimilation system.
How to manage the day-to-day and weekly tasks of Assimilation without causing long-term stress or frustration.
How to promote, manage and maximize membership class.
How to use (and not use) your church software to track assimilation.
And over a dozen more how to's!
In short, you will learn EVERYTHING I've learned about Assimilation as a coach, church planter, multiple-time Nelson Searcy Coaching Alumni, Church Leader Insights team member, and leader of our on-going laboratory at The Journey Church in South Florida.
If you'd like to read more about the specifics of this Brand New Assimilation Tele-Coaching Network (everything you'll receive as a member), I've included more about that in the P.P.S. below.
If you think you and your church might be a good fit for this network, here's where you can read more and apply now:
www.ChurchLeaderInsights.com/ac
I really hope you (or your Assimilation Leader – or both of you – since it's one spot per CHURCH) will consider joining this new network.
Here's my promise to you if you join this network: I will do everything I can to help you keep as many first time guests as possible and move them toward membership in your church and maturity in Jesus Christ.
To read more or Apply Now:
www.ChurchLeaderInsights.com/ac
If you have any additional questions, just reply to this email or call me at 1-800-264-5129 ext 5.
Thanks for your time and I hope to review your application soon!
Tommy
P.S. Don't just take my word for what this network can do for you, check out this video from Nelson Searcy about the potential of this network to impact your church: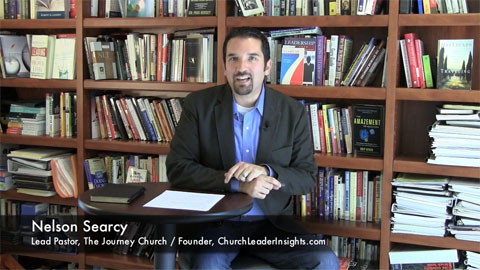 P.P.S. Because I imagine you (like me) want all the pertinent info before making a decision like this, I've put together this list of the top EIGHT most important items you will receive as a member of the New Assimilation Coaching Network:
This is a six month Tele-Coaching Network focused exclusively on Assimilation that will be conducted by phone with a webinar element (so you can see my notes) – Starting Tuesday, OCTOBER 18, 2011.
Each church in the network will secure ONE spot, and then MULTIPLE people from that church can be on call – e.g., the senior pastor, the assimilation pastor, assimilation lay leader or all three (to engage all of your church's assimilation leaders in the process).
One coaching call each month – an hour and fifteen minutes of specific training from me (and Nelson will join us from time to time).
One group Q and A call each month – a forty minute call-in time where I'll answer your 'specific-to-your-church' assimilation questions.
Over $1228.00 in FREE Assimilation resources – including some that you can't obtain anywhere else – not even through the CLI store.
Unlimited email access to me and the CLI team for your assimilation questions.
FREE attendance at most CLI (live or web) training events during your network (up to $729.00 value).
Private VIP replay access to the recording of each coaching session.
NOTE: Even if you miss the exact date, you and your volunteers can listen to the network at your convenience.
I will teach you everything I know about assimilation – both the principles I've been teaching with Nelson Searcy for years AND the latest and most advanced techniques that we're developing and using at The Journey Church!
Well, what do you say?
Are you ready….
to make your church's assimilation more effective than you thought possible?
to get more of your first time guests to return a second time?
to turn more second time guests into regulars?
to move more of your regular attenders into fully committed church membership?
to do what it takes to fine-tune your system so no one slips through the cracks?
If so, I want to help you do all that and more as a part of this network.
Follow the link below to download and submit your application as soon as possible (the network begins in less than two weeks – on Tuesday, October 18):
www.ChurchLeaderInsights.com/ac