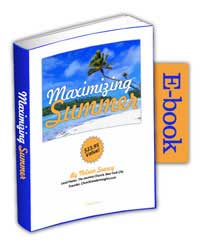 Have you bought into the idea that summer is a time for you and your church to crouch in a corner and pray for an early fall?
I doubt you've gone that far, but that's essentially what thousands of churches do every summer – writing off the summer as a time when churches just don't grow!
After listening to and believing that lie for years (and suffering the consequences), I began to try a different approach…
I've found in many cases that Summer can be the best time to grow your church and, at a minimum, it's the perfect season to plant the seeds that will bring growth in the fall.
I've put together a Free MAXIMIZING SUMMER E-Book ($23.95 Value) just to help you and your church make the most of the Kingdom Opportunities that Summer provides.
CLICK HERE TO DOWNLOAD YOUR MAXIMIZING SUMMER E-BOOK NOW!