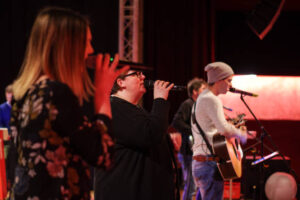 You were born with unique gifts and talents; you need a place to make sure those gifts and talents are being put to their highest and best use. The local church provides an environment in which you can use your gifts and talents for the benefit of God and others.
This is part of God's plan for you to experience significance.
Paul couldn't have been more straightforward about this when writing to his friend Timothy: "Do not neglect the gift that is in you." (1 Tim. 4:14 NKJV).
When you use your gifts and talents in accordance with what God is doing around you, incredible things will happen. You will feel alive and connected to a greater purpose. You will feel the power of God in your life as you do what you are good at to serve him. You will be a help and encouragement to the people around you.
Whether you are a musician, a tech person, someone who enjoys working with kids, a leader of people, or someone with a personality perfect for welcoming others, you can play a specific role suited to your gifts in the local church. You may know exactly how you are gifted. If so, getting plugged in should be easy for you. If you are unsure about how to serve, many spiritual gift assessments can help you figure out how you are wired.
You can find one at NewYouBook.com. Or ask a leader in your church what type of assessments your church has available.
– Nelson Searcy and Jennifer Dykes Henson
The above excerpt is from p. 96 of The New You: A Guide to Better Physical, Mental, Emotional and Spiritual Wellness
With your copy of The New You, you will come away with specific strategies on how to lose weight, get more sleep, lower stress, nurture better relationships, connect with God and much more! Anyone who wants to trade in the frustration of average living and less-than health for the hallmarks of the new life God promises will find The New You an effective personal guide for the journey.
Your partner in ministry,
Nelson