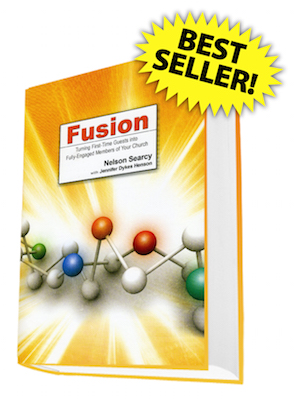 As the excitement of Easter Sunday wanes, don't miss out on the lasting spiritual fruit – upgrade your Assimilation System to be sure you're doing all you can to follow up with your Easter guests and help them get connected to your church.
Today and Tomorrow, I'm giving away a FREE copy of the executive summary of my bestselling book,"Fusion: Turning First Time Guests into Fully Engaged Members of Your Church."
This book has helped tens of thousands of churches to implement a proven system to help people move from first time guests at your church all the way through to fully engaged membership!
This summary will give you a glimpse of what your Assimilation System is all about and get you in the mindset to make sure no one falls through the cracks at your church.
Grab your FREE 8-page executive summary of "Fusion" here:
http://www.churchleaderinsights.com/fusionsummary
Get your FREE download ASAP – it's only available through end of day tomorrow (Thursday)
Your partner in ministry,
Nelson
P.S. If you find this summary helpful (or think you will), please post the link above on your Facebook, Twitter, Pinterest, Google+ or blog – as long as your friends get it thru my link, its free!
P.P.S. In conjunction with this free download, I'm leading series of free webinars on Assimilation, called "The Top 3 Assimilation Mistakes" – you can register for those when you download the summary.
Nothing impacts the growth and health of your church quicker than improvements to your assimilation system!
http://www.churchleaderinsights.com/fusionsummary