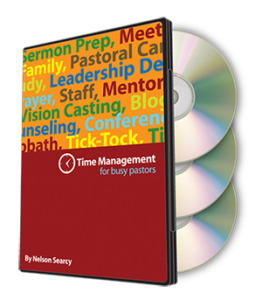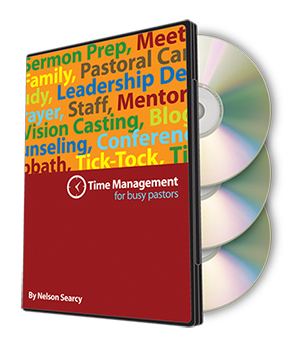 These days the demands on our time — and the pressure that comes with it — seem to be growing every day.
Especially since the pandemic, can you remember the last time…
You didn't miss a day off or a vacation because you weren't caught up, or "just couldn't get away"?
You left work for the day feeling good about what you've finished (and not shaking your head wondering if you accomplished anything)?
You were able to get beyond your "day-to-day" pastoral duties to accomplish other goals that you have for your life and ministry?
If you relate to these challenges, the good news is you CAN change your direction in 2021 — through some simple, proven time management strategies.
For over 25 years, I've been a student of time management and have been privileged to be around some godly men who modeled high accomplishment and balanced family life with Kingdom pursuits.
I've been collecting time management principles and working to live by them in my life.
In other words, I've worked hard to manage my time instead of having my time manage me.
So, here's the question:
What if you could also have 34 proven (and personally experienced) time management practices that you could start doing TOMORROW to save you 60 hours a month?
Would you be interested?
ENDS TODAY: JUST $25 – TIME MANAGEMENT FOR BUSY PASTORS (REGULARLY $299.95)

This best-selling resource includes three hours of audio training, fill-in-the-blank listener's guide, bonus audio teaching on what the Bible says about time management, bonus documents on time management principles and more!
In this best-selling leadership resource, Time Management for Busy Pastors, I have taken my top 34 time management principles that I've learned from over 25 years in ministry and spelled them out in specific detail so that you can begin using them today.
LAST CHANCE: Click here to secure your copy now for just $25! 
This seminar has now helped thousands of pastors make the most of every hour of the week
In this "no-gimmick" three-hour seminar, you'll learn the practical steps to immediately get the most out of your day. These tips could save you over 60 hours a month.
This is the perfect opportunity during the first part of the year to start honing your time management skills. You can now pick up your copy of this best-selling resource for just $25 (regularly $299.95)!
But hurry – this opportunity ends TODAY — so click the link below to secure your copy now:
www.ChurchLeaderInsights.com/25time
You'll get this entire resource — the 3 hours of audio training and bonus files — for 92% OFF but it ends TODAY, Tuesday, February 2nd! 
You'll be glad you did. In fact, when I first taught these principles to my Titanium Coaching Network of Senior Pastors, the first thank you I received was from a spouse. Thanking me for giving her husband back to her!
That one thank you note made the hard work of distilling a lifetime of time management practices down to one 3-hour, easy to implement resource worth it all.
I look forward to hearing similar stories from you!
Nelson
P.S. Remember, this is the lowest rate we have ever had for the Time Management seminar resource — Just $25! We want to make this as easy as possible for you to secure this resource and discover how to make the most of every hour of your week in 2021!
ENDS TODAY: Click here to secure your copy now for just $25!