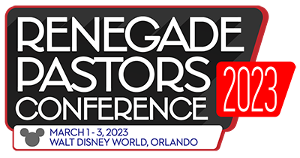 New year, new opportunities for your pastoral leadership and your ministry.
And there is no place better than the LIVE, in-person Renegade Pastors Conference to maximize those opportunities for the new year.
Join me in Orlando on Wednesday, March 1 – Friday, March 3 for the ultimate event for pastors that will equip, encourage and motivate you to reach your maximum growth potential in 2023!

SHAPE 2023 INTO THE BEST YEAR YET FOR YOUR MINISTRY!
Ministry is challenging — now more than ever — but you don't need to do it alone. At this conference you'll get the insights and inspiration you need to face those obstacles head-on and perform at the highest level as a Senior Pastor.
And with our brand new conference theme — "Leading with Your Heart and Your Head" — you'll find practical solutions and strategies to lead with:
Strength
Clarity
Courage
Balance
And above all, a commitment to fulfill your calling in the face of great challenges
This conference is about substance, not style. There is no other pastor leadership event like it. Give your ministry this great energy boost — it's essential to invest in yourself and your personal and professional growth!

USING YOUR SPECIAL CODE TO REGISTER IS AS EASY AS 1, 2, 3!
Seats are filling up fast and I want to make it as easy as possible for you to save your spot — at a great discount! You can save $450.00 today plus bring your spouse for FREE using your exclusive special code.
1. Click here to access the registration page.
2. Scroll to bottom of page, and select the option, "I received a Special Code to register."
3. You'll see a field that says "Enter Your Special Code Here."
Type in RPC2023 and you will see the rate change from $599 to only $149!
Enjoy the savings, but hurry — seats are filling up and your code expires Friday, Jan. 27!
AND HERE ARE THE TOP 10 REASONS TO ATTEND THE 2023 RENEGADE PASTORS CONFERENCE..
#1. You'll recharge your leadership — and replenish your energy and focus for ministry.
#2. You'll be able to network with other like-minded, high-achieving pastors.
#3. You'll be challenged, pastor to pastor, with a new talk from me to help you abandon average in your life and ministry.
#4. You'll find practical solutions and tools to lead with strength, clarity, courage, balance and a commitment to fulfill your calling — under our new theme of Leading with Your Heart and Your Head.
#5. You'll discover and be able to implement strategies that will position you to grow throughout 2023.
#6. You'll be inspired by energizing talks from our all-star line-up of speakers, including Steve Stroope, founding pastor of Lakepointe Church, and Lance Witt, a "pastor's pastor" and founder of Replenish Ministries.
#7. You'll connect with our valued partners and their services, with proven solutions to support your ministry.
#8. You'll be entertained by Juggler for Jesus, David Cain, who uses juggling, comedy and audience participation to share God's Word and the gospel in a creative way!
#9. You can share the experience and learnings with those closest to you — you can bring your spouse or other members of your team at incredibly low rates.
#10. It's at Disney World. In Orlando. In March!
Discover practical tips to honor God in your personal life and ministry, advanced leadership insights, and best practices from our speakers and other successful "Renegades" from across the country.
Click here to sign up for the ultimate 3-day pastor conference that will help you make 2023 the BEST YEAR EVER!
You can save $450.00 today plus bring your spouse for FREE using this exclusive special code:
RPC2023
HURRY — Code expires Friday, Jan. 27th!
Questions or prefer to register by phone? Call us at 561.921.8488, ext. 2.