Christianity Today recently ran an excerpt from my worship planning book, Engage, on its website, and I wanted to share it with you today:
Why Thursday Deadlines Make for Better Sundays at Church
Deciding details early coordinates efforts and avoids last-minute problems.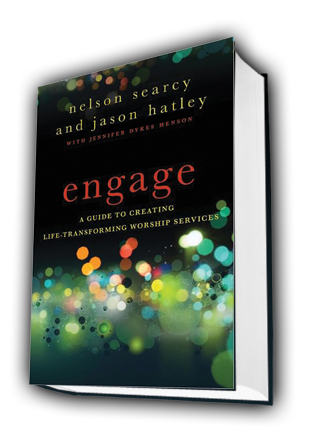 The first church I pastored was a small Baptist church in Charlotte, North Carolina. I was a 21-year-old kid. The night they voted to call me as pastor, a whopping fifteen people were in attendance. Later I learned the plan that night had been either to vote me in or to vote to merge with the church down the street. They went with me, but I'm still not sure they made the right decision.
Fortunately, God began to bless that little church and it started to grow. After a few long, hard seasons, we were averaging almost 100 people per week. Since attendance was so "high" every Sunday, I went to the deacon board with a proposal: we needed to hire a part- time minister of music. They reluctantly agreed.
After a few interesting interviews, I found a woman who fit the bill perfectly. Her name was Laura. Laura was an incredible singer, and her husband played the piano to boot—I got a two-for-one deal! Now, with the three of us on the platform, God began blessing our church even more. But things were far from perfect.
Sunday morning would roll around, and Laura and I would both show up at church. Some Sundays the music would be focused on God's love, but my message would be an examination of God's wrath. Laura and I would meet at the altar after the service and shake our heads in frustration.
Some Sundays we'd get to church and the music would be all about God's wrath (yes, there are a few in the Baptist hymnal), but my sermon would be on the sweetness of God's love. Once again, my new minister of music and I would meet at the altar, shake our heads, and sigh in frustration.
But there were some Sundays—great, glorious, powerful Sundays—when the music would be about God's love and my sermon would be about God's love. Harmony! Bliss! Laura and I would meet at the altar and dance a little jig of celebration over how the Spirit had moved. (Good thing this didn't happen too often since we were in a Baptist church.)
After a few magnificent, "coincidental" Sundays when the music and the message matched, we came up with an idea. What if I would call Laura on Wednesday and tell her what I was planning to preach the following Sunday? Revolutionary, right? (Remember, I was only 21. More advanced planning strategies had not yet penetrated my youthful cerebral cortex.)
So Laura and I established a weekly phone call, during which I would explain my sermon topic so that she could select music and choir anthems accordingly. More and more often, we saw the Spirit move in our services.
Thinking back on this early stab at creating powerful worship services makes me shudder, not just because my preaching was so bad (it was!), but also because I often blamed the Spirit for what was clearly a systems issue.
My defunct worship planning was hindering God's Spirit from working at the highest level. I pointed a frustrated finger at the Spirit when I should have been pointing a finger at my own poor planning.
Here's what I've since learned: the Holy Spirit is present in all our churches every Sunday, desiring to engage our hearts and change lives for the sake of Jesus Christ. Our worship planning systems will either complement or hinder the Spirit's work.
The choice is ours: we can either cooperate with the Spirit or block his blessing.
At [my current church,] we have decided never to leave anything associated with the Sunday service to chance. In fact, we have a rule called the Thursday midnight rule. By midnight on Thursday, we are totally prepared for Sunday—down to every last detail. We don't want to run into any unexpected problems on Sunday morning.
By Thursday at midnight, everything is printed and ready to go, so we don't run the risk of last-minute printing issues. All the equipment for the worship team is packed and loaded in the van to take to our portable venue. We've learned not to wait to do anything that can be done in advance—even if it is just bringing an extra microphone wire to the stage.
Leave nothing to chance. God honors preparedness.
Over the years, the only staff members I've had to let go—and there haven't been many—were ones who didn't love Sundays. Sunday is our game day. It is the reason we do what we do as church leaders. It's what we spend the week preparing for.
We can never afford to phone it in. We can never afford to tweak last week's worship order and go another round. We are called to a higher purpose.
This Sunday could be the Sunday someone who hasn't been to church in thirty years walks through your doors.
This Sunday could be the Sunday God wants to use you to work a miracle in someone's life!