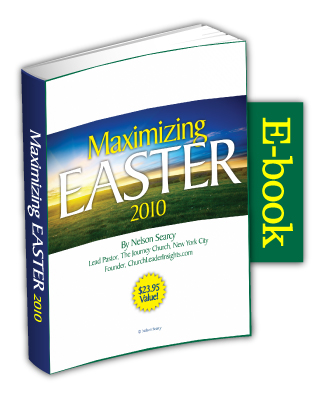 Easter Sunday, April 24, provides a once-a-year opportunity to reach the people of your community on a scale that is unequaled the rest of the year.
How do you plan to you take advantage of this God-provided open door at your church?
I'm committed to helping you and your church make the greatest possible Kingdom impact this Easter.
So today I'm releasing the very latest version of of my Maximizing Easter E-Book and giving you Up To $214.00 in Bonuses just for downloading it – THIS WEEK ONLY!
This brand new nuts-and-bolts publication and Over $39.00 in Bonus Resources are all FREE to you.
Plus, download your E-Book this week and Receive 25% OFF Easter Sermons (up to $175.00 Value)!
In this 30-page PDF E-Book, you will:
Decide to preach on Easter Sunday (and what NOT to preach)
Spiritually prepare yourself and your church for a life-changing Easter
Plan and prepare for the most powerful service possible
Capture the opportunities that only come once a year with Easter
Encourage your first-time Easter guests to return the next week
Have an effective plan to follow-up with everyone who attends
Plus so much more!
($19.95 Value)

($19.95 Value)

P.S. Download your FREE E-Book this week to get your FREE Bonuses!  Here's the link again:
http://www.churchleaderinsights.com/easter