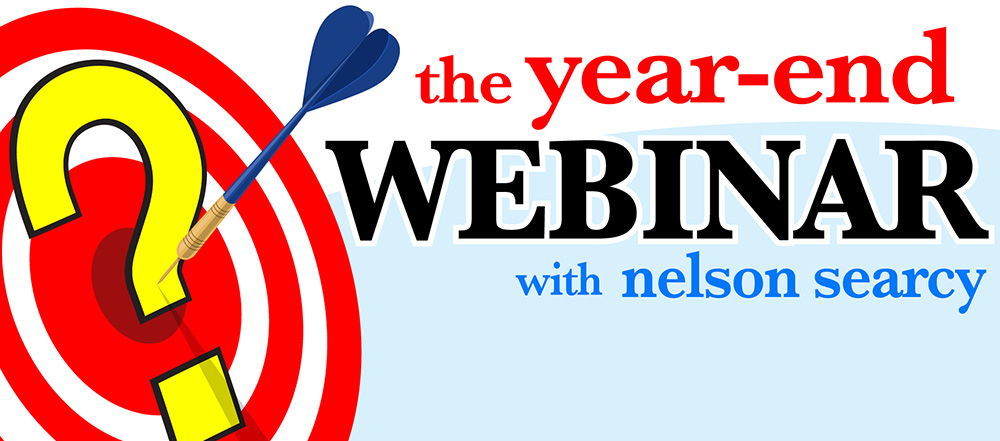 New for 2017 – Reserve Your Spot Today for the Year-End Webinar with Nelson Searcy: Important Questions to Wrap Up This Year and Prepare for a Great 2018
Only $25 with RSVP Today - plus receive over $89.90 in show-up bonuses!
You'll also receive TWO FREE MONTHS in Nelson's Renegade Pastors Network, with $895.45 in immediate church growth resources ($1,093.45 value)!
Click Here to Reserve Your Spot Today
On this 90-minute training event - with all new lessons and content from Nelson - you will discover:


The questions that will help you wrap up 2017 on a high note and ramp up for 2018


Nelson's proven process of year-end evaluation to capture the lessons from 2017 and carry them forward into the new year


The personal questions that no one ever asks you as a pastor


The spiritual questions that no one ever asks you as a pastor


The relational questions that no one ever asks you as a pastor


Questions to help you evaluate your most important relationships, including…


The marital questions that your spouse desperately wishes you would ask yourself


The insightful and reflective questions that will take your leadership to the next level in 2018 (both personally and in your church)


Questions to help you make 2018 less stressful than 2017 has been (and help you identify what's stressing you out in the future)


And much more!


EASY TO PARTICIPATE:
To access this event, all you need is a computer with speakers or headphones and Internet access. Nelson will teach you through the Internet; you'll be able to hear him and see his notes online.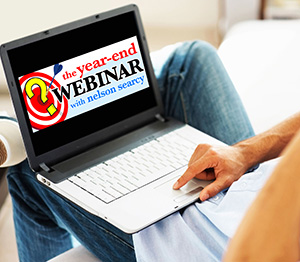 REGISTER NOW AND RECEIVE THESE TWO FREE BONUSES WHEN YOU SHOW UP FOR YOUR SELECTED WEBINAR!
BONUS #1:
Nelson Searcy's 21 Year End Questions for Reflection and Pro-flection! A $39.95 Value - Yours FREE!
These are the top questions that Nelson will share on the webinar, the questions he uses to close out 2017 and prepare his heart, soul and mind for 2018 to be the best year ever! This collection will help you reflect but also "pro-flect" on all that God is doing in your Spiritual, Emotional, Relational, Physical and Financial, and Intellectual well-being.
BONUS #2:
Developing a One-Year Personal Growth Plan – A $49.95 Value – Yours FREE!
Although there is nothing more important, your personal growth is too often left to chance.
In this 60-minute resource, Nelson Searcy walks you though how to develop a one-year personal growth plan that will ensure that you are a better leader at end of the year than when you began.
You will learn:
The first event to plan each year (it's not what you think)
The annual, monthly, weekly and daily priorities for personal growth
How your personal growth will affect the growth of your church
The ancient principles that will decrease your stress and increase your productivity
The four key measurements of personal growth you must know to succeed
Even More Bonuses:
Register Today and You'll Immediately Get TWO FREE MONTHS in the Renegade Pastors Network ($198.00 Value)!

Your free test drive includes a private membership hub with access to ministry news and insights, live teachings from Nelson include two monthly coaching calls and over $895.45 of his best-selling church growth resources. PLUS you will get a FREE copy Nelson's book The Renegade Pastor: Abandoning Average in Your Life and Ministry.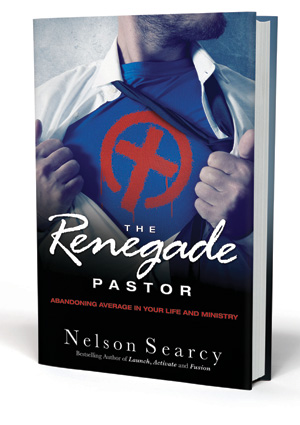 Together, with Nelson you'll focus on:
Personal and Professional Growth
Church Health and Growth
Advanced Planning
Healthy Church Systems
Becoming a Better Spouse and Parent
Fulfilling Your Calling as a Minister
Stress Management and Emotional Strength
And much more!
Plus, you'll receive additional immediate bonus resources when you register today, including resources on Personal Growth, Stress Management, Evangelism Sermon writing and much more: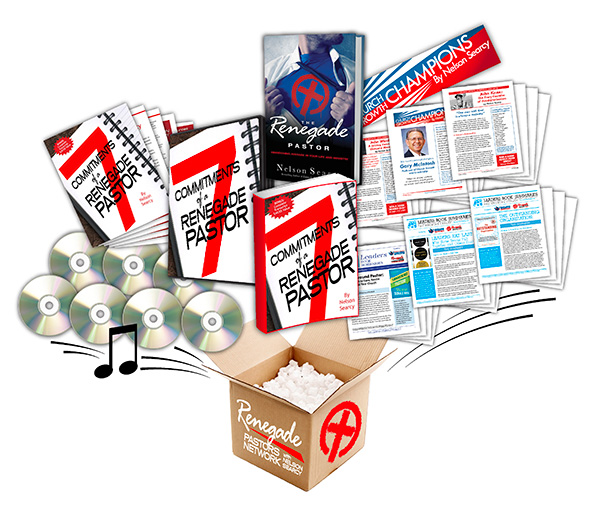 OVER $895.45 in FREE BONUSES AS SOON AS YOU REGISTER!
NOTE: Since this event is for Renegade Pastors, your membership in the Renegade Pastors Network must stay active through the training event (through Nov. 9th, 2017). After your 60-day free trial in the network, you will be billed $99 and every 30 days after that. You can cancel anytime.
So Don't Wait - Complete the Form Below to Sign Up Now!
Agreement: I agree to give the Renegade Pastors Network an honest try. After my 60 day free trial of the Renegade Pastors Network, I will be billed $99 and every 30 days after that. There are no refunds after 15 days following my first $99 charge. My statement will show the charge from the Nelson Searcy Company.
My Renegade Pastor membership subscription is for ONE church. I will not distribute these resources to any other church, organization, or individual. All materials are protected by federal copyright laws and cannot be distributed or reproduced without written consent. Click here for complete Term and Conditions.
If I have any questions about my membership, I will email orders@churchleaderinsights.com or call 561.921.8488 ext 1
---
Meet Dr. Nelson Searcy

Nelson Searcy is an experienced church planter, coach and church growth strategist, consulting with churches around the world, including many of the largest and fastest-growing ones. He's also the Founding and Lead Pastor of The Journey Church in New York City. Started in 2002, this groundbreaking church sees the majority of its growth coming from new believers and currently meets in locations in Manhattan, Queens and Staten Island, as well as San Francisco and Boca Raton, FL. Nelson is the recipient of the prestigious 2013 Donald A. McGavran Award for Outstanding Leadership in Great Commission Research. He is the author of over 80 church-growth resources and 15 books, including The Renegade Pastor: Abandoning Average in Your Life and Ministry, and the brand new The Difference Maker: Using Your Everyday life for Eternal Impact. He's trained more than 50,000 church leaders as founder of Church Leader Insights and the Renegade Pastors Network, which is designed to help pastors abandon average and strive for God's best in their personal lives and ministry. For more accelerated growth, pastors also participate in Nelson's Senior Pastor and Advanced Coaching Networks. His continued mission is to help church leaders around the world cooperate with God in creating healthy, thriving churches.