FREE CHURCH SYSTEMS TRAINING EVENT – JUST FOR SENIOR PASTORS:

Led by Nelson Searcy, Founding and Teaching Pastor, The Journey Church
and
His Top Coaching Alumni Pastors
At a City Near You | 9am – 12:30pm Local Time
Check Below for Dates and Locations
Brand New Training — Completely Updated & Expanded!
---
FREE Only for the First 50 Senior Pastors in Each Location!
Click to Learn More and Choose Your Location
---
Special Invitation from Nelson Searcy:

Dear Senior Pastor,

What would it look like if you were to DOUBLE the number of first-time guests who return to your church?

The fact is that nothing impacts the growth of your church FASTER than Assimilation­ — the process of welcoming first-time guests, keeping them coming back and eventually moving them to membership.

See, since 2006, I have had the privilege of coaching over 3,000 pastors in my coaching networks to grow their churches through this Power of Assimilation. The turnarounds I've seen have been dramatic. Even with churches that are 100 to 150 years old and stagnant for a long time.

I'm excited to partner with a few of these alumni churches for this special New Assimilation Seminar tour across the country! Scroll down to find the location nearest you below and the host pastor who will be leading and teaching this Seminar live. I will be attending via video in ALL locations.

Using the tools in this LIVE Seminar, you can at minimum grow by 52 people a year if you keep just ONE MORE first-time guest each week!

I encourage you to sign up for this one-time event now and discover the secrets to accelerated growth in your church!

Helping you reach and keep more guests,

Nelson Searcy

P.S. Feel free to invite as many other Senior Pastors who you know – in fact, I would greatly appreciate your help in getting the word out. I promise it will be worth their time. Thank you in advance!
REACH AND KEEP MORE
FIRST-TIME GUESTS IN YOUR CHURCH!
Discover the secrets to faster growth through the power of Assimilation in this LIVE 3-Hour Seminar — Pastor Nelson Partners with His Top Coaching Alumni Pastors Who Have Mastered These Tools in Their Churches and Can Show You Step-by-Step How to Get these Results in Yours!
Pastor Nelson Searcy invites you to join him and top coaching alumni pastors for step-by-step Assimilation training at a city near you!
FREE for You as a Senior Pastor — Only for the First 50 who Register in Each Location!
Plus, Just $19 for Up to 3 Staff and Key Volunteers to Attend — or Only $39 Total for 4 Guests! The Special $39 Rate is Like Bringing 2 Guests with You for FREE!
Click to Learn More and Choose Your Location
---
The challenge all of us face as church leaders: You have people attending each week for the first time but it's difficult to get them to return to church for a second time. And if WE DON'T GET THEM TO COME BACK, they are never going to become fully developing followers of Jesus.
It's such a challenge that the average church in America only keeps one out of every 20 people. That averages to about only 10 first-time guests per year.
Now imagine that same church making a few small changes and now improving that number to keep 1 out of every 10!
How many more lives could be transformed?
The great news is there IS a proven process to welcome first-time guests, get them to return again and again, and effectively move them to membership and an ongoing relationship with Christ.
It's called Assimilation — and nothing will grow your church faster!
What if you could learn these Assimilation principles from someone who has developed and improved them with over 3,000 churches across all sizes and denominations.
To that end, Pastor Nelson has put together the ultimate LIVE Assimilation seminar for you — completely updated with the latest learnings and strategies.
And now you too can discover the

Power of Assimilation

to keep more first-time guests and grow your church faster than ever!
First-time guests are a gift from God and you can maximize every opportunity to make them feel fully welcomed when they come to your church.
In fact, it is possible to DOUBLE the number of first-time guests who return to your church!
Are you ready to welcome more guests and experience this exponential growth?
FREE for You as a Senior Pastor and Only $39 Total for 4 Guests!
---
Click to Learn More and Choose Your Location
Learn the complete Assimilation system to reach and keep more first-time guests in your church!
Pastor and church growth strategist Nelson Searcy is partnering with pastors across the country to bring you this valuable training LIVE. This is Nelson's proven New Assimilation Seminar co-taught with pastors who are all part of Nelson's Titanium Coaching Network and have implemented these principles in their own churches. This is the first time this updated material has been shared in a LIVE event — or in any venue outside of Nelson's private coaching sessions.
During this 3-hour LIVE seminar you will learn:
The one word you should NEVER use to welcome new people to your church

The three critical steps to an effective Assimilation process

How to identify the holes in your welcome experience and prevent first-time guests from falling through the cracks

Two principles you can implement THIS WEEK to jump-start your system — and see faster results!

Four key areas of creating an impactful first-time guest experience

How to train the volunteers who will be welcoming your new guests — and what you should be practicing with them

The most effective, proven tool for collecting information from first-time guests — and the three-step process you must follow to deliver it

How to make it easy and comfortable for first-time guests to share their information with you (hint – this involves EVERYONE at your church)

What contact information you must collect at a minimum to be effective in your first-time guest follow-up

The three requirements of a helpful resource center — and six areas that you should have covered

What vital communications must happen within the first 36 hours, the first 96 hours and the first 30 days

The secret method that will exponentially increase first-time guest response and position you to receive God's trust

One of the strongest indicators of the future health and growth of your church — and what you need to start measuring NOW

The most important place you can focus your attention when it comes to second-time guests

The critical communications that must happen within the first 36 hours and then the first 96 hours (and how they differ from first-time guests)

The critical step for a regular attender that must (always) precede church membership

Breakdown of an impactful membership class, including format needs and sample documents

The one method you can start TOMORROW and see dramatic improvements to your Assimilation rate (it's easier than you think!)

How you can continue to build your Assimilation system month-after-month yet in the shortest time possible

…and much more!
---
FREE for You as a Senior Pastor and Only $39 Total for 4 Guests!
Click to Learn More and Choose Your Location
---
Make sure no more guests fall through the cracks —
and you will experience exponential growth in your church!
EXCLUSIVE BONUSES WHEN YOU SIGN UP EARLY!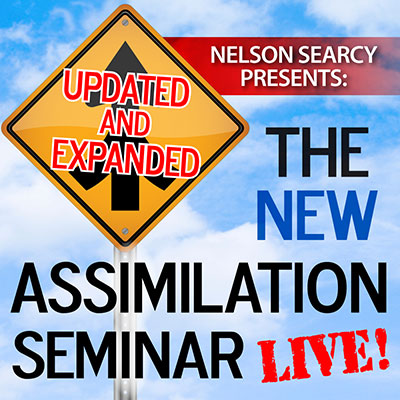 Two FREE Books with Your Assimilation Seminar Registration ($35.99 value):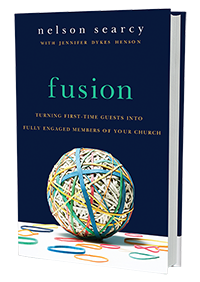 Revised and Updated – 10th Anniversary Edition of Fusion: Turning First-Time Guests into Fully-Engaged Members of Your Church by Nelson Searcy
This is the perfect complement to your live Assimilation seminar — the revised and updated edition of Fusion is full of how-to information, testimonials, examples and self-assessment tools.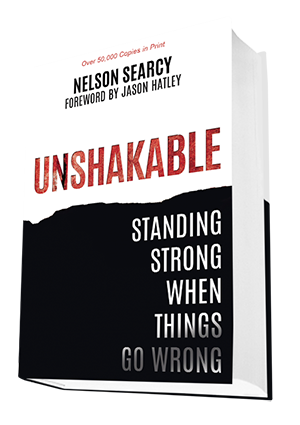 Unshakable: Standing Strong When Things Go Wrong by Nelson Searcy
This powerful book was designed specifically for first-time guests in YOUR church to help them face and survive life's scariest storms unscathed! Get a free copy plus information on how you can purchase these books for your own first-time guests.
Note: Physical softcover books will be distributed at the end of the morning seminar to pre-registered Senior Pastors.
---
So… How Much?
FREE for the First 50 Senior Pastors Only in Each Location (Note: Registration at the Door Will Be $50!)
Plus, Just $19 Per Person When You Register 1-3 Staff and Key Volunteers to Attend — or Only $39 Total for 4 Guests! The Special $39 Rate is Like Bringing 2 Guests with You for FREE!
And the best part – Nelson is keeping the registration rate super low to make this training accessible to as many pastors as possible:
If I attend by myself – Completely FREE!
If I attend plus bring 3 people with me to one or both seminars – Just $19 per guest!
If I attend plus bring 4 people with me – Just $39 total (I will get 2 guest registrations for FREE!)
If I want to bring more than 4 people call 561.921.8488 ext. 2
For one low fee of $39, you can train 4 people from your church plus yourself!
But space is limited so be sure to register today and save your spots!
Note: $39 Registration is limited to individuals from one church. Separate registrations required for each church.
Choose Your Location Below — Just Click the Red Button to See Details and Sign Up!
---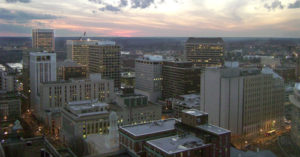 Richmond, VA
Saturday, February 15
Learn More and Register Now
---
---
---
---
---
Click the red Learn More and Register button with your preferred location above to sign up.
Or if you'd like to sign up via the phone please call 561.921.8488 ext. 2.
---
Meet Dr. Nelson Searcy
Nelson Searcy is an experienced church growth strategist, pastor, church planter and coach, serving in ministry for more than 25 years and consulting with churches around the world.
As founder of Church Leader Insights and the Renegade Pastors Network, he has personally trained more than 50,000 church leaders in over 45 denominations through live events, seminars and monthly coaching, helping them break common growth barriers like 125, 250, 500, 1000 and beyond, all while maintaining personal life and ministry balance. For more accelerated growth, pastors also participate in Nelson's systems-based Gold, Platinum and Titanium coaching networks.
Nelson is also the Founding and Lead Pastor of The Journey Church, with locations across New York City and in Boca Raton, FL. Nelson and his church routinely appear on lists such as "The 50 Most Influential Churches" and "The 25 Most Innovative Leaders." He is the author of over 85 church growth resources and 17+ books, including The Renegade Pastor: Abandoning Average in Your Life, Ministry and The Difference Maker: Using Your Everyday Life for Eternal Impact, and The New You: A Guide to Better Physical, Mental, Emotional, and Spiritual Wellness.
Nelson is the recipient of the prestigious Donald A. McGavran Award for Outstanding Leadership in Great Commission Research. His continued mission is to help church leaders around the world cooperate with God in creating healthy, thriving churches. He divides his time between NYC and South Florida. He and his wife, Kelley, have one son, Alexander.