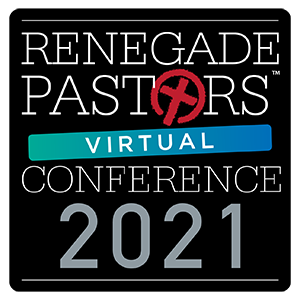 Our next big pastor event is already filling up and the Super Early Bird rate closes in just one week…
Save your spot for 3 FULL DAYS of online training at the 2021 Renegade Pastors Virtual Conference, April 13 – 15.
This is NOT your average virtual pastor event!
This conference is strategically timed to help you prepare for the new post-Covid reality. It is THE ultimate leadership event for high-achieving pastors who want to grow and who refuse to be sidelined by the pandemic!
And now you can secure a church pass for you and your entire team to attend — for only $49 Total (Normally $299.00)!
Click here to secure your virtual church pass now!
Dates: Tuesday, April 13 – Thursday, April 15
Times: 9:45am ET – 4pm ET Each Day
(with Bonus Sessions Tues and Wed afternoon)
You can attend via Zoom from the comfort of your home or office — and invite your staff to attend from wherever they are as well!
No Travel Costs — Just One Super Low Rate for Your Church Pass:
Just $49 (Normally $299.00) When You Register by Next Week, Wednesday, March 31st — or once we reach 100 sign-ups!
You're invited to join me and special guests for a memorable and motivational virtual event full of encouragement, fellowship and eye-opening training for our new reality!
At this super-low rate you will not get this caliber of speakers anywhere else — you owe it to yourself and your leadership in 2021 to attend and NOT MISS OUT on a line-up that includes me, Dr. Elmer Towns, Harold Bullock, Dr. Priscilla Pope-Levison, Kerrick Thomas, Jason Hatley, and more!
As "Lead Renegade Pastor" and founding pastor of The Journey Church, I will be teaching BRAND-NEW content to equip you to face our new challenges as pastors head-on and succeed in your ministry in the new post-Covid reality.
Ministry is challenging — especially in the wake of the pandemic — but you don't need to do it alone. Get the insights and inspiration you need TODAY to face these obstacles head-on and perform at the highest level as a church leader.
Click here to secure your virtual church pass now for only $49!
Don't wait — this virtual event will sell out soon.
Your partner in ministry,
Nelson
P.S. Sign up now to be a part of the ultimate leadership event for pastors during a critical time in our ministries — one that will equip, encourage and motivate you to reach your maximum growth potential
Don't miss this Super Early Bird Rate — Only $49 (regularly $299) when you register by Next Week, Wednesday, March 31st, or once we reach 100 sign-ups!
Questions or prefer to register by phone? Call us at 561.921.8488, ext. 2.