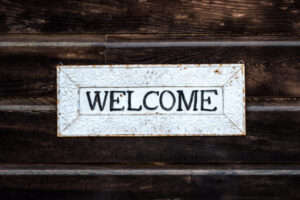 In the first seven minutes of contact with your church, your first-time guests will know whether or not they are coming back.
That's before a single worship song is sung and before one word of the message is uttered. These newcomers aren't making a logical decision based on the character of the church or the clarity of your doctrine.
Instead, they are taking in clues about your church's atmosphere and the people's friendliness on a much more rudimentary, subconscious level. So, the question for you becomes:
How much control do I have over making their initial impression a positive one?
More than you may realize.
Pre-Service: From the Street to the Seat
The pre-service is your first opportunity to interact with guests. You should use it to bring their guard down and put a smile on their face before the service begins. How? By being intentional about the way they are Greeted, Directed, Treated and Seated:
1. Greeted
Everything speaks to first-time guests. From the moment guests set foot on your property, they tune into the message your church is sending. And your church is always sending a message, whether you realize it or not. The condition of your building, your sign, your grass, your parking lot… it all speaks to guests.
Most importantly, friendly faces offering a warm welcome make an incredible difference in the impression you are creating. Your greeters should radiate the message, "We are nice people! We are glad you are here!" Examine everything through your first-time guests' eyes. What are you communicating?
2. Directed
Make sure your guests are politely pointed in the right direction, either by a sign or a volunteer — preferably by both. The two most important areas that demand clear signs are the restrooms and the children's spaces. Our tendency is to think that our own building is easy to navigate. For you, it is.
For your guests who have never set foot through your door, it's not. Good directions and an abundance of signage can lower your guests' anxiety and remove stumbling blocks to hearing the good news.
3. Treated
Providing food is one of the best ways to put your guests at ease and show them you care. When done well, food can really wow your guests, but when done poorly, it turns them off. Some advice: Don't skimp on food. This is not the area to try and save a nickel. Don't cut things in half to make them stretch. Food is your chance to show unchurched people that you care enough to offer them something for free that will meet a need. Quality, not extravagance, is the key.
4. Seated
The first time my wife and I went to a Broadway show, we saw the value of a good usher in action. The moment we stepped into the theater, we were literally ushered to our seats. On the other hand, we've been to sporting events and concerts where we missed the first 15 minutes because we were still trying to find the right wing, level, section and row.
The difference is that Broadway shows want you to keep coming back for more and spread the word. Event venues know their draw is only as strong as that night's particular entertainment. You'll be back when there's an act you want to see, despite customer service conditions. We'd do well to adopt the mindset of Broadway's bright lights rather than that of self-service stadiums. In other words, make sure your guests are ushered to a comfortable seat kindly and quickly.
The thinking behind Greeted, Directed, Treated and Seated may be a paradigm shift for you. Your plan for first-time guests may have always been just to get them through the door and make your impression with the service itself. While that sounds good, research has shown time and time again that you don't have that luxury. Those newcomers will likely decide about their return visit before they make it to their seats, based on the subconscious tools of evaluation God has given them.
Acknowledge your guests as the gifts that they are by having a pre-service system in place that will far exceed their expectations and create that elusive positive first impression. You'll excite them to want to visit your church again and again so that they can ultimately learn about the excellence, graciousness, hospitality and generosity of the One after whom you are modeling the system of their assimilation.
Nelson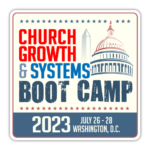 P.S. Go deeper on developing your Assimilation system this July at the Church Growth and Systems Boot Camp!
Assimilation (how we move from first-time guests to members) is one of the Eight Systems of a Healthy Church that I've helped pastors develop and maximize in their churches. And at Boot Camp I'll dive into each system — sharing the latest and most impactful lessons for maximum health and growth!
Join me at a new location in Washington, D.C. for 3 packed days of training, on Wednesday, July 26 – Friday, July 28, 2023. This year you'll also get key church growth principles for each church system as professor and church growth expert Dr. Gary McIntosh joins me LIVE on stage. Kerrick Thomas and Jason Hatley are also back to teach on the systems as well and share learnings from The Journey Church.
Registration is open now — you'll save 53% when you use your special code: FAMILY.
Plus you can bring your spouse for FREE and enjoy special rates for teams, like 4 guests for just $199 total!
Click here for more details and to secure your spot now using code FAMILY