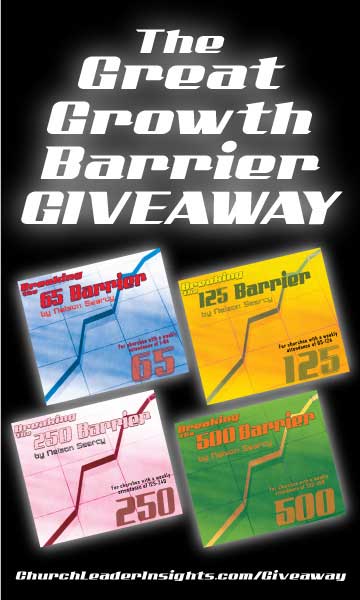 I hear from a lot of church leaders from one week to the next and I have heard a common theme lately that has me pretty excited.
It's a theme of faith, expectation and motivation, an understanding that God wants your church to grow and you want to do what it takes to cooperate with Him.
I agree and I really want to help you break your next growth barrier this fall.
So, with that desire and in preparation for my new Tele-Coaching Network (which begins in two weeks), I want to give you your choice of one of my bestselling Growth Barriers resources (Breaking the 65, 125, 250 or 500 Barrier).
To receive your Free Growth Barriers resource, click the link below and enter the current growth barrier you're facing (65, 125, 250 or 500):
www.ChurchLeaderInsights.com/giveaway

P.S.  There's still time to apply for my new Senior Pastor Tele-Coaching Network, but you need to hurry!  For more info and to apply, click here.