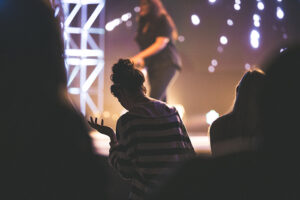 Asking your groups to serve together at the worship service at least once a semester is a great way to integrate groups into the complete life of the church. You can consider asking groups to serve no matter how many you have, but this will work especially well for churches with more than twenty groups. You'll be giving your group members an opportunity to invest in the worship experience by serving in key volunteer positions, which will spark a feeling of responsibility toward the church. Relationships (small groups) and responsibility (serving) are two of the most important factors for assimilation.
So how does the serving work?
Identify the areas in your church where people with limited training can simply show up and serve. At The Journey, this means serving as a greeter, manning the refreshments table, handing out programs, or acting as an usher.
Assign each group to a worship service and give them a set time to show up for a brief training. We ask them to be there an hour before the service starts.
When the group arrives, give the training and assign people to specific roles.
Debrief after the service and ask how you could improve the experience.
Encourage the groups who serve to grab coffee or lunch together after the service.
Use this opportunity as a way to encourage people to serve on a regular basis.
– Nelson Searcy and Kerrick Thomas, with Jennifer Dykes Henson
The above excerpt is from p. 290-291 of Activate: An Entirely New Approach to Small Groups.
Drawing from the startling success of small groups at The Journey Church, Nelson Searcy and Kerrick Thomas debunk the myths, set the record straight, and show how church leaders can implement a healthy small group ministry that gets the maximum number of people involved and solves many of the important problems facing churches of all sizes. These practical strategies will produce life-changing results.
P.S. – Click here to grab your copy from Amazon today!
Your partner in ministry,
Nelson