We all heard the news last week of the passing of Billy Graham at age 99. I look forward to a long conversation with him one day in heaven. Like you, he impacted me in profound ways.
In 1989, his book Peace with God was an instrument God used to bring me to Christ. On my bookshelf is a copy of the book (which I bought in a used bookstore just down the street from the University I was attending). I also have a watercolor of the park where I studied the book for several days in late October.
In 1992 as a new minister, I was invited to his Training School for Evangelism. Also on my shelf is my notebook from this training. The Billy Graham organization paid for my room, board and training fees (wow, what generosity!). This training has literally impacted my ministry every day since.
In 1994 as an active vocational evangelist, I met Mr. Graham, along with other great evangelists, at the North American Conference for Itinerate Evangelists in Louisville.
I could go on to even more recent engagements with Dr. Graham and the influence of his ministry.
But what I wanted to write and provide for you today is a four-page report I put together on his life, ministry influence, best quotes, best books, etc.
This is not an obituary or tribute, it's a look at the lessons we can learn and use now in our ministry.
It's FREE and quick to download (and while you are on the download site, I'd love to hear how Billy Graham has impacted your ministry).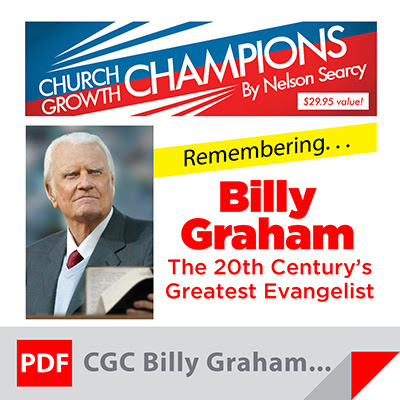 Click here to download your FREE Billy Graham Church Growth Champions report
Even if you don't have time to read or review the report now, go ahead and grab it for your archives. Plus, since this is the kind of report I would normally only share with my paid coaching members, I can only keep the link open this week.
Hope you find the report helpful.
Your partner in ministry,
Nelson
P.S. As I write this to you, I'm actually in Orlando for two days of meetings with my highest level coaching network (Titanium Coaching), followed by the 3-day Renegade Pastors Conference that you've heard me talk about. I would really appreciate your prayers for me this week. We have a record number of churches attending and I'm praying God will use this week in great ways. Thanks in advance.