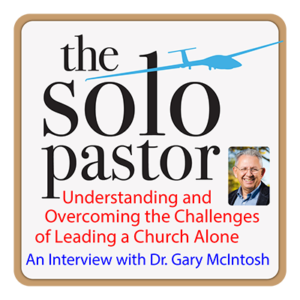 Spots are filling up for a special online event THIS Thursday, April 20…I'll be interviewing Dr. Gary McIntosh about his new book The Solo Pastor: Understanding and Overcoming the Challenges of Leading a Church Alone.
Gary is a professor, church consultant and former solo pastor who knows that leading a church alone is challenging and demanding. He wrote this book to provide practical guidance to prevent pastoral burnout.
And he'd love to share these insights with you.
I've known Gary for many years and consider him a great friend and mentor. This is an exclusive opportunity to learn from a church growth and leadership expert with both a great mind and heart for helping pastors.
Our 60-minute online event is normally $69 to attend. But as an insider, you have an opportunity to register for FREE with a unique code — SOLOPASTOR (see below for details).
Limited Spots for this Exclusive 60-minute Zoom Event:
THE SOLO PASTOR:
An Interview with Dr. Gary McIntosh
THIS Thursday, April 20 @ 2:00pm – 3:00pm ET
I'll be interviewing Dr. McIntosh on the proven strategies he shares in his latest book, The Solo Pastor, especially how to:
Understand the strengths/challenges of the solo-pastor church
Develop effective leadership skills
Build and maintain vital relationships
Manage expectations
Spot and neutralize "bullies" who seek to control the church
Communicate clearly
Make the most of limited resources
And establish healthy priorities and boundaries
Don't miss this exclusive online event on a unique and actionable pastor's guide inspired by 47 years of first-hand ministry experience!
YOUR EXCLUSIVE CODE TO SIGN UP FOR FREE NOW!
This special Zoom event is normally $69 to attend. But because you are a key part of our Church Leader Insights ministry family, I'd like to share this exclusive code with you so you can sign up for FREE today:
SOLOPASTOR
When you sign up you'll see a field that says "Enter Your Special Code Here." No strings attached. And no trial membership required.
Ready to join me for this exclusive online event for pastors? Click here to sign up now using your special code – SOLOPASTOR
PLUS SPECIAL BONUSES AND GIVEAWAYS!
When you register today, you'll receive a bonus report on Dr. McIntosh's life and contributions ($19.95 value). Plus on our webinar you'll have an opportunity to win a FREE copy of The Solo Pastor, as well as a FREE pass to the upcoming live event where Dr. McIntosh will be joining me as a keynote presenter: Church Growth & Systems Boot Camp, July 26-28 in Washington, D.C.
Join a great group of high-achieving pastors THIS Thursday for this insightful interview.
Your partner in ministry,
Nelson
P.S. Loneliness, isolation, self-doubt and a constant search for additional resources and volunteers are some of the many challenges solo pastors face. Dr. Gary McIntosh addresses these challenges and offers practical help for pastors in his book, The Solo Pastor, and at this special online event.
Save your spot now for FREE using this exclusive code: SOLOPASTOR
Click here to reserve your spot now — FREE with your exclusive code SOLOPASTOR (normally $69)!