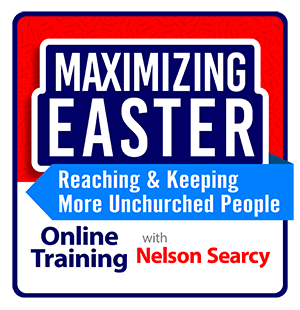 Thanks for joining us on the Maximizing Easter Online Training with Nelson Searcy — be sure to check your email for more exclusive opportunities.

Now scroll down to access these bonus specials from Nelson!
NEXT STEP #1
BEST COMBO EVER: Two Must-Have Resource Downloads from Nelson Searcy — The Maximizing Easter Seminar, Updated for 2023 + The New Believer Seminar
Just $47 (Over $832.95 value) -
You Save 94%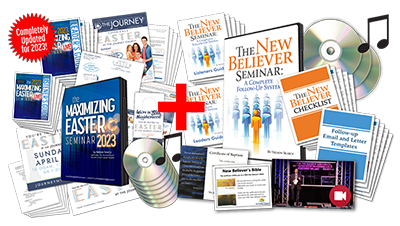 Get the ultimate training package to reach and keep more guests this Easter!
The Maximizing Easter Seminar 2023 resource will enhance and go further than the webinar, with teachings on all 25 ways to double on Easter. Plus you'll receive over a dozen bonus audio teachings from Nelson and ALL the latest sample files and promotional pieces that you can edit and use in your own Easter preparation and promotion. The value of these sample files alone is worth your investment in the resource! Plus, includes over $93.85 in additional bonus resources.
Includes: 3 hours of audio training, a fill-in-the-blank listener's guide, leader's guide, complete Easter checklist, and over a dozen sample files and promotional pieces
And The New Believer Seminar gives you Nelson's proven step-by-step system to follow up with every new believer God brings to your church so you can move them forward to become fully-devoted followers of Christ!
Includes: 3 hours of fast-paced training, a fill-in-the-blank listener's guide, leader's guide, sample follow-up emails, letters, a baptism certificate and a bonus video sermon from Nelson on "What it Means to be a Christian
ADD THE DOWNLOADS
TO MY ORDER BELOW
FOR JUST $47 (OVER $832.95 VALUE)
NEXT STEP #2
For Senior Pastors Only:
FREE Renegade Pastors Network — 90-Day No Obligation, No Credit Card Required, Full-Access Membership!
($198 value + you'll receive over $895.45 in free resources) -
Just complete a short survey to confirm your membership!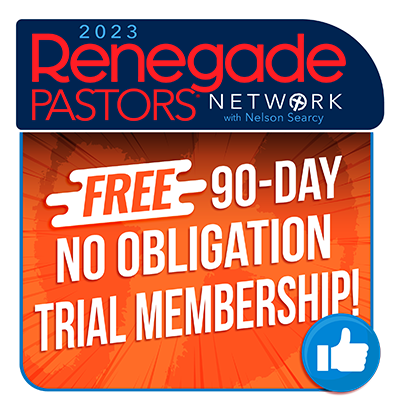 The Renegade Pastors Network is a monthly coaching network led by Nelson Searcy that will help you abandon average in your ministry. Normally $99 per month — you can give it a try for FREE for the first three months (no credit card required)!
Your monthly coaching membership helps you:
Achieve personal growth

Find ministry-life balance

Lead your church to growth and health

Accomplish great things for God's Kingdom
What's Included in Your Coaching?
Monthly Training Calls

Monthly Training Packages in your Mailbox

A Private Online Membership Website

Email access to Nelson and the CLI team

Renegade Pastor Discounts on Resources and Live Events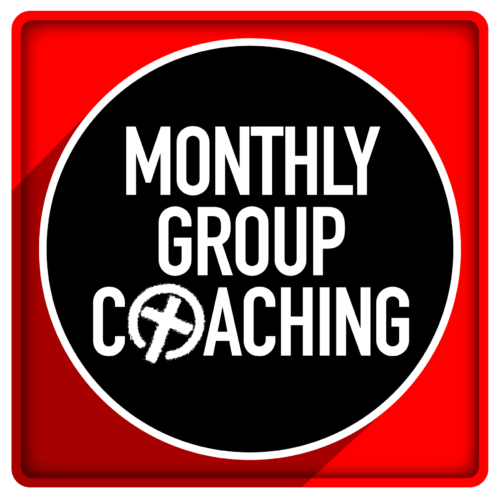 Renegade Pastors Monthly Group Coaching
Your don't-miss Zoom call with Nelson includes new leadership lessons and practical teachings each month plus LIVE Q&A and prayer requests.
Upcoming Coaching Zoom Dates — Mark Your Calendar
(All times are 2:00pm – 3:00pm ET)
Wednesday, April 12

Wednesday, May 3

Wednesday, June 7
Can't make the Zoom live? Recordings will be in your member hub within 48 hours.
If you are a Senior Pastor, we invite you to sign up for this 90-day no credit card required, full-access membership. All you have to do is complete a short survey to confirm your interest.
ACCESS THE SURVEY FOR YOUR FREE 90-DAY FULL-ACCESS MEMBERSHIP

NEXT STEP #3
SAVE 67% WITH THIS LOW RATE!


Updated & Expanded: The Assimilation Seminar + Team Training


Download Just $199

- Normally $599.95 |

CD Set Just $229

- Normally $699.95 |

DVD/CD Set Just $299

- Normally $899.95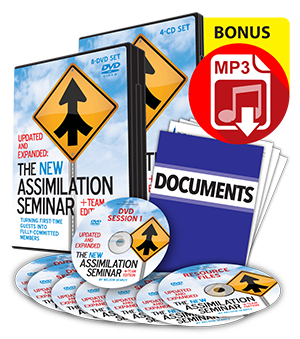 10 Years in the Making – Nelson Searcy presents his most powerful resource to date — Completely UPDATED and EXPANDED! This Proven, Step-by-Step, "Done-for-You" Resource contains everything you need to implement the Assimilation System in YOUR church!
Nothing impacts the growth of your church FASTER than Assimilation — The process of welcoming first-time guests, keeping them coming back and eventually moving them to membership. Nelson Searcy first developed this Assimilation process 10 years ago at The Journey Church and since then has implemented and improved these strategies with over 3,000 churches across all sizes and denominations.
Updated with the latest learnings and strategies that have worked in Nelson's church and over 3,000 other churches across all sizes and denominations — it's 30% longer with 50% new content!
Designed for easy implementation with your team. Everything is laid out for you in a logical step-by-step fashion to make it easy to get up and running quickly! Including the 91-page comprehensive Assimilation Strategy Editable Document and all the editable Assimilation documents used at The Journey Church and over 3,000 of Nelson's Coaching Alumni churches.
AND FOR THE FIRST TIME – you have a Team Training DVD Option! Train your staff and key leaders — Nelson will be right there on screen walking you through each of the seven sessions of training. DVD Set Option also includes CD and Downloads!
Includes: Seven sessions of audio training, fill-in-the-blank listener's guide, leader's guide, step-by-step checklist, complete transcript, sample emails, surveys, connection cards and other templates, plus the 91-page Assimilation Strategy used at The Journey Church
Organized for team training with seven powerful 30-minute sessions that you can go through at your own pace. Each of these seven sessions will have specific action steps for you from Nelson:
Add the download
to my order below For Just $199 Add the Boxed CDs
to my order below For Just $229 Add the Boxed DVDs
to my order below For Just $299