I am happy to announce that my latest book, Maximize: How to Develop Extravagant Givers in Your Church is available for order today, Oct 1, at Amazon.com!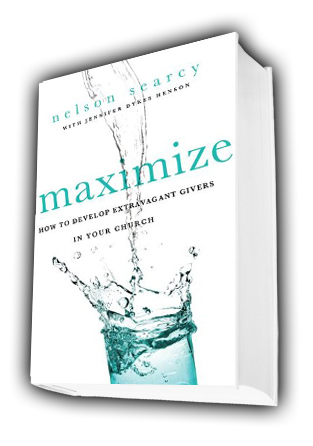 And, if you pick up the book today (for about $10), I'll give you over $270.00 in special bonuses (including a gift certificate for Church Leader insights that is equal to your book investment, including shipping). That's quite a return on such a small investment!
You could say that Today at least, $10 is really worth over $270.00!
My new book is designed to help you lead a fully resourced church and will help you implement a step-by-step stewardship system in your church to grow strong disciples (stewardship is discipleship, you know) AND maximize your church's finances.
Here's why I'm doing these bonuses . . .
First, I want to say Thank You for ordering my new book.
Second, Amazon.com is the 'big dog' in the book world. And Day One sales are very important to the online giant.
Simply put, my new book will be recommended more, receive higher placement from Amazon and be featured more prominently if Day One sales are high.
So, it's a win/win for us both . . . You get the book before its available in stores and at the lowest price anywhere (its even cheaper on Amazon than my 'authors discount').
Here are the Bonuses You'll Get For Ordering My New Book TODAY:
BONUS #1 – $25.00 Church Leader Insights Gift Certificate that can be used on any of my other online resources (this amount is designed to help you recover the investment you made in the book + shipping at Amazon)
BONUS #2 – $100.00 Gift Certificate on the 12-Hour Stewardship Intensive Workshop
BONUS #3 – $45.00 Off of the 3-CD Set, The Stewardship Seminar
BONUS #4 – How to Plan and Conduct a Christmas Offering PDF E-Book ($23.95 Value)
BONUS #5 – How to Lead Your Church During the Financial Crisis MP3 ($13.95 Value)
BONUS #6 – Money Matters in Church MP3 ($13.95 Value)
BONUS #7 – Free attendance and an early invitation to my upcoming Maximize Webinar. Dates and times will be announced via email later this month ($49.95 Value)
So, are you ready to pick up the book and receive your bonuses?
There's only ONE way to get these incredible bonus resources for free – and that's to buy my book through Amazon today, Oct 1.
The process will take under 5 minutes. It's as simple as "A B C":
A. Go to the following link and buy the IGNITE book:
B. Check your email for Amazon's receipt. When you have it, then…
C. Go to the following website and enter your info and Amazon Order Number:
(Note: Please MANUALLY enter the number, and don't try to cut-and-paste, which does not work.)
That's it! We will then email you with instructions for all your bonuses.
I really believe that implementing what I'm going to teach you in Maximize is one of the best investments you can make in your church this Fall.
Wishing you a great Fall season of Stewardship!
Nelson Searcy
P.S. If you've already pre-ordered the book on Amazon, simply track down your receipt and follow the steps above. Thank you!