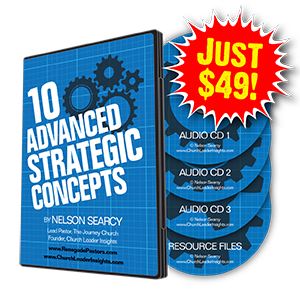 As pastors, we're now being challenged in new ways, with new decisions to make on an almost-daily basis. As we're hearing often (to put it mildly) these are "unprecedented" times.
Tough times like these call for better strategic thinking — so you can make those wise decisions that will lead you and your church down the right path. We need to have a diverse tool kit of ideas and strategies to tackle these growing challenges that we face every day.
The good news is we do have an arsenal of strategic concepts that we can draw from!
So what exactly is a strategic concept? Well, it's basically a powerful idea that can be summarized in just a few words. It's easy-to-understand but the depth behind it has been proven over time.
That's a key part of it – it's proven.
Based on that definition, you may be surprised at how many strategic principles that you can extract from business, philosophy, history, and yes, even straight out of The Bible.
I've been a long-time student (Okay, you can call it an obsession) of these kinds of ideas and strategies – and have spent hundreds of hours pouring through books, case studies and, most importantly, field testing with my own ministries — to boil it all down to the 10 strategic concepts that will best help YOU and YOUR CHURCH.
These strategic — and Biblical — concepts will guide you from where you are to where God wants you to be. I promise you they will give you more time, energy and results – with a whole lot less stress!
I'm inviting you today to join me on a detailed tour in my powerful resource, 10 Advanced Strategic Concepts, where I explain them in great detail, and specifically how you can apply each concept to your ministry. I've become something of a master at using just the right strategic concept for each situation you're in.
Whether it's issues with your current worship services, systems, staffing, sermon development or volunteers – you'll have just the right tool for each particular situation.
Click here to learn more and secure your $49 copy now (sale ends Friday, June 5th). 
In leadership and planning, you really have two choices — you can either learn from your mistakes, or learn from the mistakes of others. One is a whole lot faster and less heart-wrenching than the other! These proven principles have been tested over time so you can reap the benefits of those who have come before you.
By adding these powerful, proven tools to your leadership tool kit, you'll have a tactical solution to address any pressing problem in your ministry you're facing today – so you can accomplish even greater things for the Kingdom.
Your partner in ministry,
Nelson
P.S. This is a packed resource containing 3 hours of Audio Training, Complete Transcript, Fill-in-the-blank Listeners Guide and Leader's Guide. Normally $299.95, you'll save over 84% today and pick up the download for just $49! 
Click here to learn more and pick up your copy for just $49.