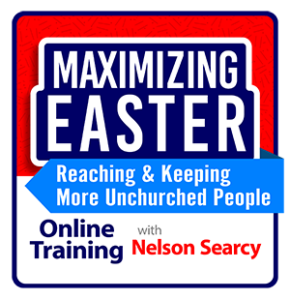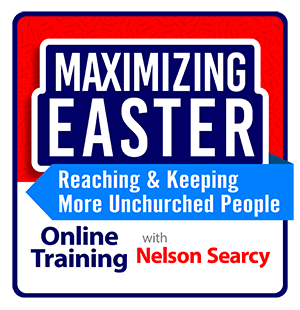 You are invited to join me over Zoom this week for a 90-min Maximizing Easter Online Training.
Don't let this be an average Easter — at this online training, I will show you easy, practical ways to Maximize Easter. You will discover the easy-to-implement (and proven!) ideas you can use to overcome your current challenges and still GROW your Easter attendance.
Collected, developed and honed at The Journey Church where I pastor and in over 3,500 coaching alumni churches around the U.S. and beyond — these proven principles will help you and your church truly maximize Easter this year!
This training is normally $49 but as a blog reader you have a special code that will allow you to register for FREE (see details below).
I'm doing the webinar/Zoom at five different times over 3 days so you can pick what works for you. Click here to select your time and see all the details. 
And then when you see the checkbox "Enter Your Coupon Code Here", click it and enter this code to register for free:
EASTER2023 
No strings attached. And no trial membership required.
Plus, you can invite everyone on your teaching team to join you for FREE — just one registration required per church!
DON'T LET THIS BE AN AVERAGE EASTER!
Don't miss the opportunities to grow your church this Easter…coming out of the pandemic, in uncertain times, the power of the resurrection of Jesus Christ possesses a tremendous spiritual draw.
So why not pull out all the stops and do EVERYTHING you can to harness the power of Easter Sunday to reach people and make disciples?
Hurry, seats are limited. Click here to learn more and sign up using your special code – EASTER2023
I hope you'll join me and a great group of growth-oriented pastors to make 2023 your best Easter ever!
Your partner in ministry,
Nelson
P.S. Oh, when you sign up today, you'll immediately receive a FREE Big Day Preparation Bundle ($83.95 value). Jump-start your Easter prep with several tools to help you mobilize your church for the Big Day, make a great impression with your Easter guests, and prepare your staff spiritually for Easter!
Because you're a blog reader, you can sign up for FREE today using this exclusive special code:
EASTER2023
When you sign up you'll see a field that says "Enter Your Special Code Here." Hurry, seats are limited. Click here to learn more and sign up using your special code – EASTER2023