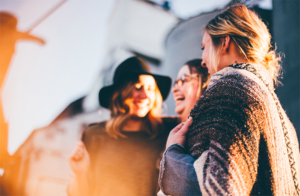 Jesus is the ultimate demonstration of God's engagement in our lives. He is the visible representation of God's engagement. God sent Jesus to live a perfect life, to die on a cross for our offenses, and then to be raised from the dead–all so that we could be in relationship with him and have new life, both here and in eternity.
John 3:16, the most popular verse in the Bible, illustrates this:
"For this is how God loved the world: He gave his one and only Son, so that everyone who believes in him will not perish but have eternal life."
With Jesus, you can go from struggling through your days to walking in step with the living God. This doesn't mean your circumstances will change immediately, but your daily decisions that influence them can. This doesn't mean there won't still be resistance, but you will have God's Spirit within you helping you push through. This doesn't mean the enemy won't still try to derail you, but you will be operating in the power of Jesus to overcome him.
How do you get there? How do you step into this new creation? How do you become the new you on a foundational level? First by saying yes to God's invitation to trust in His Son. If you haven't already done that, you can find out how and get many of your questions answered at NewYouBook.com. Then you make a decision every day to lean into the life God has for you. You can begin by doing the following:
Allow God to change the way you think. "Let God transform you into a new person by changing the way you think. Then you will learn to know God's will for you, which is good and pleasing and perfect" (Rom. 12:2).
Choose to step away from old, unhealthy tendencies. "Since, then, we do not have the excuse of ignorance, everything–and I do mean everything–connected with that old way of life has to go. It's rotten through and through. Get rid of it!" (Eph. 4:21-22 Message).
Develop new habits that will help you take hold of the life you want. "Put on your new nature, created to be like God" (Eph. 4:24).
You enter into the life God has for you by first connecting with him through Jesus and then by taking responibility for your spiritual health. As you do, you will begin to experience the fullness of life as the new you.
– Nelson Searcy and Jennifer Dykes Henson
The above excerpt is from p. 86-88 of The New You: A Guide to Better Physical, Mental, Emotional and Spiritual Wellness.
With your copy of The New You, you will come away with specific strategies on how to lose weight, get more sleep, lower stress, nurture better relationships, connect with God and much more! Anyone who wants to trade in the frustration of average living and less-than health for the hallmarks of the new life God promises will find The New You an effective personal guide for the journey.
Your partner in ministry,
Nelson