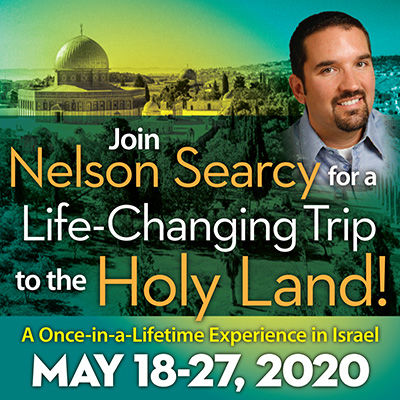 We have an incredible group already signed up for my 2020 Holy Land Tour but I still have room for 6 to 8 more — if you claim your spot this month.
I'd love to see you be a part of this powerful spiritual pilgrimage. Because one of the key elements of a pastor's personal growth plan each year is some time away to refresh and focus your own spiritual growth.
The truth is, no matter how many spiritual retreats you've been on during your ministry, nothing compares to a trip to the Holy Land.
If you've ever wanted to walk where Jesus walked, see an empty tomb like the one where His body was laid, or put your hands to the stones of walls that He touched, then you know that visiting the Holy Land is more than just a trip. It's a life-changing experience not to be missed!
It's a place that nearly every pastor I know hopes to visit SOME DAY.
I want to help you make that SOME DAY a reality.
Click here or click the image below to watch a video where I walk through all the sites we'll be visiting:
That's why I've put together a private, first-class, VIP tour to the Holy Land where you will experience first-hand the sights and sounds that we read and teach about in Scripture first-hand.
I'm excited to be leading this 10-Day trip to the Holy Land on May 18-27, 2020, and I hope that you will be able to join us!
This special trip is designed to be a spiritual retreat for you and, having traveled to the Holy Land many times before, I can tell you, it is a life-changing experience.
I know the effect this tour will have on your ministry. You will:
– Understand the Bible in ways you never have before. Once you've been, it's as if you were reading the Bible in black and white before, and can now see it in full color!
– Never preach the same way again. You will have an entirely new perspective as you prepare your sermon each week after you've seen with your own eyes the places where Jesus taught, performed miracles, restored Peter after his denial, fasted in the wilderness, carried his cross to Golgotha, and was raised to life in the empty tomb.
– Experience a personal spiritual renewal. As I mentioned above, every pastor should take for spiritual renewal each year. And there's no better place than the Holy Land.
– Receive encouragement from me and other pastors who will be with you on this trip!
It's going to be a spiritual and leadership growth experience that you won't forget!
You'll enjoy a top-notch VIP tour — we've secured superior accommodations, transportation, meals so that you will be comfortable and that this will be a true biblical growth experience for you.
Our 10-day tour includes:
* Superior hotel accommodations at two of Israel's finest 4-star hotels
* Round Trip air transportation from the US to Israel
* Travel by private, deluxe, air-conditioned motor coach
* Breakfast and dinner daily, with some special lunch experiences included.
* Admission to ALL tour destinations
* Our own English-speaking, licensed Holy Land Scholar who will serve as our Tour Guide
* A spiritual, theological and biblical growth experience for you
Tour highlights will include visits to:
– Caesarea
– Capernum
– Mt of Beatitudes
– Sea of Galilee
– The Dead Sea
– Gethsemane
– Western Wall
– Mt of Olives
– City of David
– Garden Tomb
– Yad Vashem
– Southern Steps
– And more!
The details of our tour are now posted on our website. Follow this link to learn more and secure a deposit. Note: There are less than 8 seats currently available:
www.ChurchLeaderInsights.com/HolyLand
At the site you can complete a simple form that will take you to our tour provider (Inspired Travel) where you can download a brochure with our trip itinerary, view complete travel details, package prices and more.
I hope to travel to the Holy Land with you — the trip of a lifetime awaits!
Your partner in ministry,
Nelson