The Ministry Seminar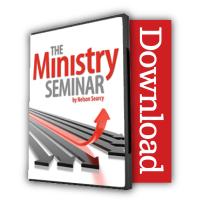 The Ministry Seminar
What would you do differently if you had the maximum number of volunteers serving in ministry?
What impact could your church have if everyone was serving somewhere in your church?
In this seminar, Nelson Searcy will teach you how to have the maximum number of people involved in serving.
Download your new resource in 4 easy steps!
Step 1: Download Your New Resource
Audio
Documents
---
STEP 2: Download your FREE bonuses!
How to Recruit New Volunteers - Ebook

God has a greater plan for your church. Thankfully, he doesn't operate in lack, but in abundance. Apply these Eight Biblical Principles for Recruiting New Volunteers to cooperate with God in leading people into a deeper walk with him. By connecting them through biblical servanthood, you will begin to see healthy growth in your members and attenders, in all of your ministries, and in your church as a whole.

Archives: Download all of the resource in one ZIP file. Just click the link below to download all of the files and bonuses.

---

Step 3: Take a moment now and add these additional support resources to your library at a special one-time discount:

The New Believer Seminar for $49 (50% Off)

In The New Believer Seminar, Nelson Searcy has developed a valuable system that will equip you to follow up with every new believer God brings to His church.

---

Updated & Expanded: The Evangelism Seminar + Team Edition
Choose from Download, CD or DVD - save up to 90%!

Turn Up Your Evangelism Efforts like Never Before — Get the Completely Updated and Expanded Best-Selling Resource Proven to Help You Reach More People for Christ! Brand New – Now with Team Edition – Choose from Download, CD or DVD! SAVE 87%!

CLICK HERE TO CHOOSE YOUR RESOURCE OPTION!

---

Updated & Expanded: The Assimilation Seminar + Team Training
Choose from Download, CD or DVD - save up to 90%!

10 Years in the Making – Nelson Searcy presents his most powerful resource to date: The Completely UPDATED and EXPANDED Assimilation Seminar + Team Edition! This Proven, Step-by-Step, "Done-for-You" Resource contains everything you need to implement the Assimilation System in YOUR church!

CLICK HERE TO CHOOSE YOUR RESOURCE OPTION!

---

Step 4: Don't let this be a one-time opportunity! Take advantage of Nelson Searcy's Renegade Pastors Network!

Are you ready to transform your life and ministry from average - to Renegade?
Get Nelson's NEW BOOK When You Join the Renegade Pastors Coaching Network!

Nelson is so passionate about the message of the book and helping Pastors abandon average and have greater effectiveness in their life and ministry.

"If you want to grow a healthy church and have a happy personal life, look at what the average pastor is doing and do the opposite." (The Renegade Pastor)

If you are like the majority of pastors, your years of ministry have decreased your passion and increased your frustration. In the midst of life's chaos and the pressures of leading church week after week, "average" may have become your new standard - but you've been called to so much more.

This is not an e-book!

Includes SEVEN packed chapters of nuts and bolts teaching that will help you lead better. This book isn't just INSPIRING it is EQUIPPING you to be more effective - you will actually receive practical tools that you can use right now in your ministry!

Drawing from Nelson Searcy's decades of church leadership experience, The Renegade Pastor: Abandoning Average in Your Life and Ministry is a relevant, step-by-step resource that offers profound yet practical insights to help you:

Manage your stress level
Deal with criticism
Control your emotions
Set godly goals
Become a better spouse and parent
Plan with purpose
Personally honor the Sabbath
And more!

Plus, you'll receive additional immediate bonus resources when you add Renegade Pastors Network to your order, including the Seven Commitments of a Renegade Pastor audio resource, leadership book summaries, Church Growth Champions interviews and much more:


OVER $895.45 in FREE BONUSES AS SOON AS YOU JOIN!

Top 10 Benefits for Joining Your the Renegade Pastors Network Today!
(this is not an exhaustive list but here's your Top 10):

1. The Renegade Pastors Monthly LIVE Leadership Briefing Call with LIVE Q&A. At the heart of the network is a monthly update and briefing from Nelson via LIVE Conference Call. This monthly "pastor to pastor" call (which will be recorded on MP3 for your library) will be personal, practical, packed with content and slightly irreverent (but in a good way) training where Nelson will challenge you, enlighten you, equip you and guide you to maximize your next season of ministry. He will often bring in guest speakers as well.

With the Renegade Pastors Monthly Briefing Call, you'll always be one step ahead in your planning and fully inspired and equipped to stay the course of the Renegade lifestyle.

Don't worry if you can't make the live call – you'll receive an MP3 recording in your Online Private Membership Hub to access anytime.

2. Equipping Interview Call. The week following our Leadership Call, Nelson will do a second call where he interviews other leading authors and church growth experts. On these calls, he goes in-depth on the topic of their latest book, their background, and insights and tips for pastors and churches. Past interviews include Thom Rainer, Gary McIntosh, Chuck Lawless, Warren Bird, Steve Stroope, Patrick Lencioni, Bill Easum, and Larry Osborne, among many others.

Plus don't worry if you can't make the live call – you'll receive an MP3 recording in your Online Private Membership Hub to access anytime.

3. Membership Welcome Kit Upon Joining. When you join the network today, you will be welcomed to the Renegade lifestyle with resources and bonuses so you can immediately start abandoning average! You'll have access to the following:

- Immediate Coaching Hub access with 3 months archive of recent training calls, newsletter, book summaries, special welcome bonuses and more.

- Welcome phone call conversation with Renegade Pastors staff

- 7 Day Renegade Reflections e-mails to quick-start your membership

- Priority Mail Package including the following:

- 7 Commitments of a Renegade Pastor CD case plus first two CDs (5 more mailed monthly to complete the kit)

- Two classic Church Growth Champions reports

- Selected book by Nelson Searcy

- Renegade Pastor wristband

- 7 Commitments of a Renegade Pastor pocket card

- Plus surprises!

4. Bonus Renegade Pastors T-shirt. Wear it proudly; remember, you are now part of a community of like-minded pastors committed to abandoning average!


Includes a FREE Renegade Pastors T-shirt ($19.95 value)

5. Online Private Membership Hub Access. In your password-protected membership site, you'll have instant access to Renegade Pastor benefits including recordings of the monthly calls (3-month archive), exclusive Renegade Pastor online events, purchased resources, Renegade Pastors in-depth book summaries (3-month archive), monthly members update (3-month archive), and Church Growth Champions Audio training from Elmer Towns, Chip Arn, Peter Wagner and Gary McIntosh.

6. Mailed Monthly Members Update. You'll receive a large packet each month that's packed with content that you receive only as a Renegade Pastor. These monthly mailings contain a 24+ page printed Renegade Pastors Insider, 6x per year Church Growth Champions biographical report (more on that below), 6x per year Renegade Pastors in-depth book summaries (more details below), Growth Points feature with Dr. Gary McIntosh and more!

7. FREE Church Growth Champions biographical report. Each report (6 per year) features a different pioneer of church growth and evangelism to inspire you and your ministry. Past champions include Donald McGavran, Billy Graham, Charles Spurgeon and John Wesley, all available in your Hub as well.


8. Leadership Book Summaries. You will have exclusive access to these book summaries (6 per year) for the duration of your membership. Includes the "Renegade" perspective with how you can apply the learnings in your church.

9. Q&A with Nelson on each Leadership Briefing Call. At the end of the call, Nelson opens it up for "pastor to pastor" question-and-answer time. You'll have a chance to discuss with Nelson what's going on in your church and get direction on next steps. Even if you're not the one asking a question, you get to hear from other pastors and learn from their situations.

10. Members Only Online Webinars and LIVE Events – like the Annual 3-Day Renegade Pastors Conference. This private event is completely focused on equipping members to abandon average. Members enjoy three days with their fellow Renegades just full of encouragement, fellowship and eye-opening training!

The Renegade Pastors Network is about a comprehensive approach to life and ministry. As a member, Nelson will help you stay one step ahead of the calendar, make the most of your time and resources and fulfill your calling for the sake of the Kingdom.

In addition to your $895.45 in FREE Resources, your membership in the Renegade Pastors Network includes:
A Monthly Leadership & Strategy Briefing call with Nelson where you'll be challenged and guided to maximize your ministry each month
Monthly Equipping Interview Call where Nelson interview other leading authors - past interviews include Patrick Lencioni, Larry Osborne and Gary McIntosh
MP3 and CD recordings of both the briefing and interview calls each month - don't worry if you can't make the live calls, you won't miss a thing
Members-Only Online Hub where you can access your files, resources and recordings at all times
Continually Updated Renegade Pastors Documents and Directory
30% Off Discount on all Church Leader Insights resources for the duration of your membership
And much more!
Get back to the business of reflecting God's glory in every aspect of your life! Join Nelson Searcy on a mission to abandon average and reclaim a life of impact and excellence. Are you ready to go Renegade?
Yes! I am ready to grab my book copy as a Renegade Pastor Silver member and Receive Over $895.45 in Renegade Pastor Resources! (Shipping Included)
---
Meet Dr. Nelson Searcy
Nelson Searcy is an experienced church growth strategist, pastor, church planter and coach, serving in ministry for more than 25 years and consulting with churches around the world.
As founder of Church Leader Insights and the Renegade Pastors Network, he has personally trained more than 50,000 church leaders in over 45 denominations through live events, seminars and monthly coaching, helping them break common growth barriers like 125, 250, 500, 1000 and beyond, all while maintaining personal life and ministry balance. For more accelerated growth, pastors also participate in Nelson's Senior Pastor, Evangelism, Stewardship, Assimilation and Advanced Coaching networks.
Nelson is also the Founding and Lead Pastor of The Journey Church, with locations across New York City and in Boca Raton, FL. Nelson and his church routinely appear on lists such as "The 50 Most Influential Churches" and "The 25 Most Innovative Leaders." He is the author of over 85 church growth resources and 15+ books, including The Renegade Pastor: Abandoning Average in Your Life, Ministry and The Difference Maker: Using Your Everyday Life for Eternal Impact, The Renegade Pastor's Guide to Time Management.
Nelson is the recipient of the prestigious Donald A. McGavran Award for Outstanding Leadership in Great Commission Research. His continued mission is to help church leaders around the world cooperate with God in creating healthy, thriving churches. He divides his time between NYC and South Florida. He and his wife, Kelley, have one son, Alexander.