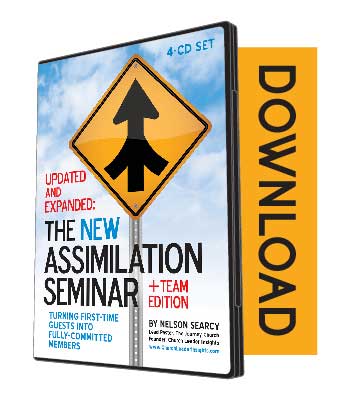 Updated & Expanded: The Assimilation Seminar + Team Training
The Completely UPDATED and EXPANDED Assimilation Seminar + Team Edition! This Proven, Step-by-Step, "Done-for-You" Resource contains everything you need to implement the Assimilation System in YOUR church!
Download your new resource in 3 easy steps!
Step 1: Download Your New Resource
AUDIO TRAINING - Right click the link below and save to your computer.
Documents – Right click these links below and download all of the documents to your computer.
STEP 2: Download your FREE bonuses!
What Gets Measured E-book ($23.95 value)

"What gets measured gets done," but what do you measure each week at your church? This e-book will help you measure your church each week.

How to Make a Great First Impression ($23.95 value)

Seven minutes is all the time you have to make a positive first impression on the first-time guests who walk through your doors. This e-book will help you create a welcoming environment.

OC Church Leaders ($39.95 value)

In this recording of a live 'staff meeting' at The Journey Church, I'll teach you how to create a culture that is obsessive-compulsive when it comes to the details of welcoming guests to our church.
Archives: Download all of the resource in one ZIP file. Just click the link below to download all of the files and bonuses.
Step 3: Take a moment now and add these additional support resources to your library at a special one-time discount:
The Evangelism Seminar for $25 (75% Off)
The first step in reaching your community for Jesus is getting new people through the doors of your church. But how do you invite the unchurched in? How can you ensure that they'll accept your invitation? How do you turn your vast unreached communities into first-time guests at your church?
Recorded LIVE with Nelson Searcy, this 3-hour seminar discusses practical steps that will help you draw first-time guests through your doors by creating a church-wide climate of evangelism and outreach.
This downloadable resource includes:
How to raise the evangelistic temperature of your church
How to influence your leaders to reach out to the community
How to maximize your church's publicity
How to teach and challenge your congregation to bring their friends to church
How to pray for the unchurched in your community
Plus much more!
You Will Receive:
Nearly three full hours of training
Complete fill-in-the-blank Listener's Guide
Complete Leader's Guide
The Journey's servant evangelism strategy
Sample Mailers
Sample Postcards
Sample Invite Cards
...and much more!
Pick Up Your Copy Now and Save 50%!
---
The New Believer Seminar for $49 (50% Off)
How are you helping the people who make the most important decision of their life? Do you have an effective process that helps people move forward from their decision to becoming a fully-devoted follower of Christ?
In The New Believer Seminar, Nelson Searcy has developed a valuable system that will equip you to follow up with every new believer God brings to His church.
In this comprehensive downloadable resource, you will learn:
How you can increase the number of people who indicate their decision for Christ (Hint: you probably have more people coming to Christ than you realize...they're just not telling you)
How to ensure that every person is discipled and that "No New Believer Gets Left Behind"
What to do and

NOT

do in the first hour after someone becomes a Christian and the four opportunities you have to follow up with new believers, and the importance of each opportunity
Why your preaching calendar is crucial to your new believer follow-up
The one thing you

MUST

do in order to see new believers grow
How to cultivate the connection between prayer and new believers
Plus much more!
This resource includes:
Over two hours of Nelson teaching you the specific process to follow up with your new believers
A listener's guide to follow along with Nelson
A complete Leader's Guide so that you can teach your staff and church leadership
The Journey's complete, editable New Believer follow-up strategy (NOTE: This one document alone - in which Nelson walks you through "why" and "how" to use and edit in the audio MP3's - has been described by many as being worth the investment in this resource.)
...and much more!
Pick Up Your Copy Now and Save 50%!
---
The Stewardship Seminar for $99
Recorded live, this three-hour seminar on stewardship discusses practical steps that will help you develop first-time givers, regular givers, tithers and extravagant givers.
Your people will grow spiritually as they learn and implement biblical stewardship. Beyond that, your church will be healthier and better resourced to pursue God's vision.

In this downloadable resource you will learn:
The five types of givers in your church
How to cultivate first-time givers
How to develop an ongoing stewardship system
How to motivate people to tithe
How to challenge people to go deeper in stewardship
How to teach on money
How to increase giving in your church
Understanding stewardship as discipleship
You Will Receive:
Nearly three full hours of training
Fill-in-the-blank Listener's Guide
Sample Offering Envelope
Sample Follow-Up Emails
Sample Follow-Up Letters
Sample Giving Documents
...and much more!
Pick Up Your Copy Now!
---
Step 4: Don't let this be a one-time opportunity! Take advantage of Nelson Searcy's Assimilation Coaching Network!
TAKE YOUR ASSIMILATION TO THE NEXT LEVEL!
New 7-Month Assimilation Coaching Network with Nelson Searcy
Join Now for Only $299/Month!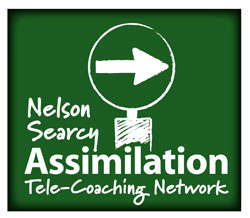 This brand new Assimilation Coaching Network will be led by Nelson Searcy and is available now, via a new on-demand, online module format (you participate at your convenience each month).
The Coaching Network will be based on the Assimilation principles identified and taught by Nelson to thousands of churches - through books, resources and live events - and will be provided in a format that you can watch at any time.
You'll receive 7 sessions over the course of this network that you can fully participate online anytime. And unlike other networks, you will receive both the audio and video - your experience will be identical, no matter when you log in.
Nothing Can Create Faster Growth In Your Church than the Power of Assimilation!
Just think... keeping just two more first time guests a week would grow your church by more than 50 people over the course of this network!
Here's what you'll receive in this new 7-month network:
Seven Monthly online sessions focused exclusively on Assimilation.
Regular Q and A calls with Nelson Searcy.
Over $1228.00 in FREE resources from Church LeaderInsights PLUS special discounts on any new resources.
Unlimited email access to Nelson Searcy and the CLI Team.
FREE attendance at CLI (live or web) training events during your network (up to $729.00 value).
Use with your entire staff or volunteers!
Private Assimilation Documents and Strategies not available elsewhere.
Click Here to take Advantage of This Special Offer!