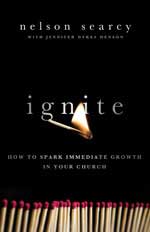 Today is the second installment of my 6-week blog series, "Igniting Growth In Your Church." This Thursday series is your sneak peak into the pages of my new book, Ignite: How To Spark Immediate Growth In Your Church. If you are one of the tens of thousands who are already reading Ignite, well, thanks! I trust that this series will serve as a weekly reminder and reinforcement of what you are learning.
Last week we uncovered four of the most powerful reasons for doing a big day. Once you decide to go for it, the next step is to pick the most strategic date…
Today's Topic: When Should I Do A big Day?
Here are four of the best times of year for a successful big day:
1. Easter Sunday – The Built-In Big Day – Easter is a big day "gimmie." God has already put this one on the calendar for you, so your job is to maximize the increased turn out you are already destined to have. If you've never done a big day, this is a great one to start with because a large part of the structure is already in place.
2. Fall – The Back-To-School Big Day – The second best time of the year for a big day is one month after school begins. Yes, you read correctly – you should schedule your big day for approximately one month after school begins. Your regular attenders and members won't all start returning with normalcy until the Sunday after school begins. You need some time for them to get back in the swing of things before your big day.
Also, we've found that reaching unchurched people is even more difficult than usual for the first couple of weeks after school starts.  They are consumed with getting everyone back in a routine.  Give them a month to settle into the school year and get back on track. Then, they'll be more ready to accept your invitation to attend a big day.
3. February – The Unexpected Big Day – You may be surprised by this, but February is an extremely effective time to do a big day. It's a hidden gem of a month that you can maximize to help you break through growth barriers. Why? First of all, February is a time of the year when people are home. No one is traveling; they're hibernating. Secondly, February brings with it a host of emotional needs that stay repressed during other months. The days are short. It's dark. In a lot of households, this leads to tension and fighting.
February is also an ideal time for a big day because of its proximity to Easter. If you have a big day in mid-February, you will usually have five to eight weeks before Easter. That double boom of two big days close together is a great way to build fast momentum and break through some barriers.
4. Your Pick – The Big Day of Choice
To fill in any seeming dry spells in your annual calendar, I suggest that you pick one more day each year and make it a big day. This big day probably won't be as big as your Easter, fall and February big days – because it won't necessarily have the natural rhythm of the calendar supporting it – but it can give you another burst of momentum at what you consider a low time.
To balance out The Journey's annual calendar, I usually create a big day in the summer. I will either kick off a big summer sermon series or leverage an existing day, like Father's Day, and turn it into a reason for people to invite their friends.  Be creative.
For more information on planning and executing a big day, make sure to pick up your copy of Ignite: How To Spark Immediate Growth In Your Church. You may also want to check out my audio resource, "The Big Day." Just click here.
Once you decide why and when to do a big day, what's your next step? That's what we'll talk about next Thursday. Don't miss it!
– Nelson
P.S. – I just recorded a brief podcast on doing a big day, called "Is it possible to double my church in a day?" You can listen to it by clicking here.
P.P.S. – I also have some upcoming LIVE Ignite Seminars in North Carolina (one in the Charlotte area and another in the Raleigh area) – check out this link.
And watch for more Live Ignite events in 2010!