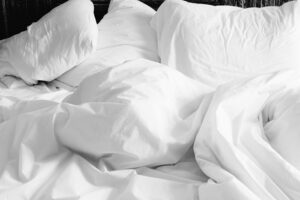 Even when you understand the importance of prioritizing sleep, gauging whether we are getting enough can still be difficult. We are so conditioned to get by on too little sleep that we are not always the best judges of whether our needs are being met. To begin determining if you are getting enough sleep, ask yourself these questions:
How much sleep do I need? While there are rare exceptions on both sides of the equation, most of us need approximately eight hours of sleep every night to function at our best.
Am I waking up without an alarm? If the answer is no, you probably aren't getting enough sleep. When you hit your sweet spot, you may still want to set an alarm to make sure you don't oversleep–you should wake up feeling rested in the thirty minutes before it sounds.
Am I able to go to sleep within thirty minutes of lying down? Over a few months, this question, combined with the one above, will help you figure out exactly how much sleep you need. If you know you aren't getting enough sleep but you are having problems falling asleep when you go to bed, try establishing a wind-down routine.
Am I waking up rested and pain-free? When you wake up rested and pain-free, you know you are getting quality sleep–and quality is just as important as quantity. If your answer to this question is no, you will have to do a little investigating to figure out why. Nine times out of ten, though, the mattress you are sleeping on is the biggest problem.
Am I dozing off during the day? If you are dozing off during the day, you probably aren't getting the quantity or quality of sleep you need at night. If you are struggling to stay awake only occasionally, then you should be able to address the problem by improving your sleep in the ways discussed here.
– Nelson Searcy and Jennifer Dykes Henson
The above excerpt is from p. 155-157 of The New You: A Guide to Better Physical, Mental, Emotional and Spiritual Wellness.
With your copy of The New You, you will come away with specific strategies on how to lose weight, get more sleep, lower stress, nurture better relationships, connect with God and much more! Anyone who wants to trade in the frustration of average living and less-than health for the hallmarks of the new life God promises will find The New You an effective personal guide for the journey.
Click here to order your copy today!
Your partner in ministry,
Nelson